Posted: August 26, 2019
by Rev. Joseph Illo
Pastor of Star of the Sea Church, San Francisco
Remarks at Matriculation
Thomas Aquinas College
California Convocation
August 26, 2019 
It's an honor to be among such fine incoming freshmen, and to have the privilege of greeting you each by name beside your College president in this Matriculation ceremony. Of the one 104 names, I noticed half a dozen Sophias, which is a good sign of your desire for wisdom. Among the men there were quite a few Thomases, and so I think you have all come to the right place for your college education. Again I thank Dr. McLean and the faculty, as well as Mr. Turicchi and Board of Governors, for affording me the joy of being with you today.
Two days ago Dr. McLean and Bishop Rozanski matriculated 28 freshmen and 30 Sophomores at your new sister campus in Northfield. Keep in mind that Massachusetts is now two days ahead of California, and I expect a friendly rivalry may develop between the two campuses. Bishop Rozanski called your cousins at Northfield "pioneers," but consider the founders who came to this dusty spot of earth in the 1970s to establish the nation's first truly Catholic liberal education college in many generations. They pulled in a few trailers for dormitories and classrooms. A corn-dog and cotton-candy stand served as food service.
Neither the 33 students and 4 faculty of 1971, nor the 58 students and 8 faculty in Northfield last Saturday, nor any of us here today, have come of our own initiative. It is God Almighty who calls his servants, even as St. John writes that "it is not that we have loved God but that He has first loved us." We call this gathering a convocation, or "calling together," because someone greater than ourselves calls this college into being each year. Higher education is the response to a voice, the vox Dei, a vocation. Dr. McLean identified this higher purpose of education in his Northfield matriculation address by quoting St. Augustine: "The end of learning is to know God, and out of this knowledge to love Him, and to imitate Him as we may, by possessing our souls of true virtue."
St. Thomas heard the voice of God as a perceptive and inquisitive boy at the family estate in the province of Frosinone. If you ever find yourself on a train between Rome and Naples, find the time to alight at the station called Roccasecca. Pass through the modern village to the ruins of a castle in the hills above town and have a look. The sparkling Mediterranean spreads before you, with varieties of plants, trees, birds, and rocks filling the hills. The boy Thomas heard God's voice in the natural beauty of his home and family, leading him to write and speak of the Logos that orders all creation. He was not quite finished with his masterwork, the Summa Theologiae, when he heard a voice one day in the chapel. "Thomas, you have spoken and written well of me. What reward will you have?" The Dominican friar answered simply, "Only you, O Lord." And St. Thomas wrote not another word. His work in this life was completed.
Your work is not yet completed, and neither is mine. We must study, pray, speak, and write of God's sacred order while we have time and strength. One day, if it so please His Majesty, we will hear Him say to us, "Well done, good and faithful servant. Enter into your Master's joy." May the good God bless your work and your prayer at Thomas Aquinas College this year.
---
Receive Thomas Aquinas College
lectures and talks via podcast!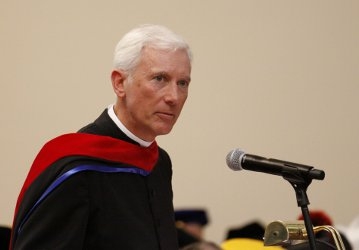 "The College passes on the Faith through uniting it with reason."
– Very Rev. Fr. John M. Berg, F.S.S.P ('93)
Superior General of the Priestly Fraternity of Saint Peter
"Thomas Aquinas College is a paragon of what Catholic higher education ought to be."
– William Cardinal Baum
Prefect Emeritus
Congregation for Catholic Education
CALENDAR
NEWS FROM THE COLLEGE