Posted: August 24, 2019
by the Most Rev. Mitchell T. Rozanski
Bishop of Springfield, Massachusetts
Remarks at Matriculation
Thomas Aquinas College
New England Convocation
August 24, 2019 
Good afternoon, everyone. It is indeed a privilege to be with you this afternoon to celebrate this very historic day for Thomas Aquinas College, for the town of Northfield, Massachusetts, and indeed for the state of Massachusetts, to have Thomas Aquinas here on this Northfield campus
About a year ago I was looking at my email and I saw a little article that said, "The Least to the Most Religious States in the United States." Well, being a bishop, that of course caught my attention. So I looked up what was the least religious state, what was the most religious state. What was very interesting was that New Hampshire was the least religious state, followed by Massachusetts — a close second — and the other states of New England as well as the states of the Northwest. And in that survey the most religious state was Arkansas. The further south one went, it seemed, the more religious the state.
After that I had the opportunity to talk to Bishop Peter Libasci, the Bishop of Manchester, New Hampshire, and I shared with him what I saw on that survey. And he said to me, "Well, I think we have our work cut out for us." And, indeed, we do have our work cut for us. We need to bring the light of the Gospel, especially to so many who have lost that way in their lives, who have lost faith, and who need that faith rekindled.
It was also interesting to me to see that the states that are least religious have the highest amount of problems with the opioid crisis, New Hampshire leading them. And so there is a correlation — those who don't have hope need to turn to things that are self-destructive. Those who have hope in their hearts can see the possibilities of bringing the presence of God to others.
It is indeed fortuitous that Thomas Aquinas opens here in New England at this Northfield campus at this time. It's a time when Massachusetts, and New England, and indeed our whole country need the light of the Gospel, need the rays of hope that come from faith, to give to us new life, new hope, in the Gospel message.
And so, with you, with your administration and faculty, and with you as the pioneer students of Thomas Aquinas College in New England, I thank God for your presence. I rejoice that you are here. And I challenge you: Bring hope, and bring the light of the Gospel, to an area of the country that truly needs your witness.
Thank you for being pioneers. And thank you for living out your faith in such a beautiful, wonderful way that will attract others to live our faith, too. God bless you.
AUDIO
---
Receive Thomas Aquinas College
lectures and talks via podcast!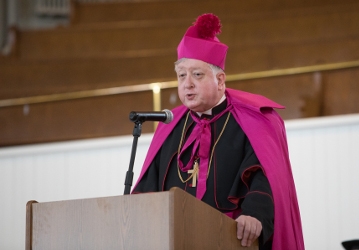 "Dynamic situations call for a nimble, dynamic mind, and the College really prepares you for that."
– Lt. Robert Mohun ('09)
U.S. Marine Corps
CALENDAR
NEWS FROM THE COLLEGE