Photos & Video: Bishop Barron, College Close Global Rosary Relay 2020
Posted: June 22, 2020
The Most Rev. Robert E. Barron, Auxiliary Bishop of Los Angeles, joined the community of Thomas Aquinas College as its members prayed the Holy Rosary for the sanctification of priests on Friday, June 19, the Feast of the Sacred Heart of Jesus.
The gathering marked the conclusion of WorldPriest's eleventh annual Global Rosary Relay, an international prayer chain in which members of the faithful across the world took turns praying a designated set of mysteries, thereby encircling the planet in prayer for 24 hours. Thomas Aquinas College was blessed this year to serve as the last leg of the relay, spiritually delivering the world's prayers to the Blessed Mother from its chapels in California and New England.
Prior to the recitation of the Rosary, Bishop Barron offered Mass from Our Lady of the Most Holy Trinity Chapel on the California campus. "It's a joy to be with you, a joy to be at this beautiful place and to hear that stunning choir," said His Excellency as he began his homily (video below), focusing on the "center of Jesus' affectivity," His Sacred Heart. "Love what He loves," the Bishop advised. "Rejoice over what He rejoices over. Be sorrowful over what He's sorrowful over. Exult in the manner of His exultation."
Meanwhile, in New England the faithful began with Adoration of the Blessed Sacrament in Our Mother of Perpetual Help Chapel. Then, at 6:45 p.m PT / 9:45 p.m. ET, New England Chaplain Rev. Greg Markey and his counterpart in California, Rev. Paul Raftery, O.P., accepted the spiritual baton from Cathedral Parish in Fargo, North Dakota, and led the praying of the Glorious Mysteries on both coasts. Due to COVID-19 restrictions, the events were not open to the public, but the California Mass and Rosary were available via livestream.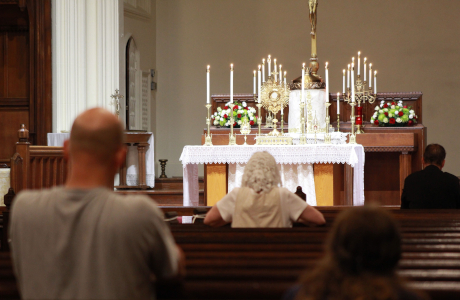 In total, more than 300 congregations participated in the event in more than 85 countries and on 6 continents. The prayers were offered to God in thanksgiving for all priests, as well as to seek the loving care of Our Lady for her priestly sons. This year was the second that Thomas Aquinas College has participated in the Relay, the first time on both campuses, and the first to be joined by Bishop Barron. "The St. Thomas Aquinas community is joyous and faith-filled," wrote His Excellency in a follow-up Instagram post, "and I am always honored to offer Mass in their beautiful chapel."
"In our classroom discussions, we are responsible for our own education. We have to get our hands dirty, to figure out the material, to let it become part of us and make us better people. That is real learning."
– Isabella Hsu ('18)
Redondo Beach, California
NEWS FROM THE COLLEGE