Posted: August 30, 2019
Throughout the day Friday, Michael Ferreira, a mosaic artist from Cape Cod, and his fiancée, Jess Bevis, worked to install in the façade of the College's New England chapel an image of its newly declared patroness, Our Mother of Perpetual Help. After a day's work, the building now prominently bears the likeness of Our Lady for which it is named.
Based on a Byzantine icon enshrined in Rome's Church of Saint Alphonsus, the mosaic appears just above the century-old chapel's main entryway, ensconced in the building's masonry. The original icon, which dates back to at least 1499, has been associated with numerous miracles, as have many of its replicas.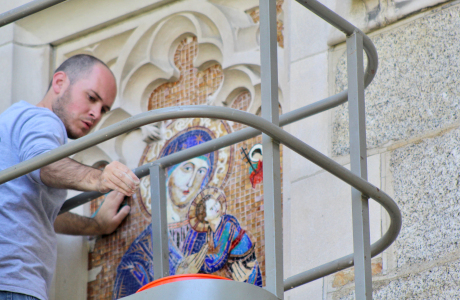 Constructed in 1909 on what was then the campus of the Northfield School for Girls, the chapel was originally named for Russell Sage, an American financier, railroad executive, and member of Congress. Renovations to prepare the chapel for Catholic worship began this spring and will continue over the next few months. On Convocation Day, the Most Rev. Mitchell T. Rozanski, Bishop of Springfield, Massachusetts, blessed the building, which will be consecrated once the remaining renovations are complete.
Until then, however, Our Mother of Perpetual Help Chapel now proudly bears the image of Our Mother — may she pray for us!