Posted: October 29, 2020
Dear friend,
In my 70 years of religious life, I have been blessed to serve at several colleges, and at each one the experience has been even better than the last. That's why I like to call my time at Thomas Aquinas College "the cherry on top of the whipped cream" — the very best yet.
I have loved my time living and working among these students; watching them grow; witnessing their intellectual curiosity and their pursuit of holiness; seeing them go on to become married men and women, mothers and fathers, even priests and religious themselves.
It's a tremendous consolation for me to know that when my time on the California campus draws to an end — when they send me off to "Jesuit Finishing School," or when I go on to my eternal reward — my efforts here will continue to bear fruit. Through their work in the Church and the world, and through the faithful, joyful families they raise, the alumni of Thomas Aquinas College will be part of my legacy.
And they can be part of your legacy, too!
We are currently in the last week of the College's first St. Thérèse Legacy Month — held in support of our Legacy Society and its newly named patroness, St. Thérèse of Lisieux. The St. Thérèse Legacy Society consists of those benefactors who support the College through planned giving, which typically occurs in their estate plans. Legacy gifts are essential to the future of Thomas Aquinas College, enabling the school to produce many more such fine alumni for generations to come.
If, like me, you would like to make these young people part of your legacy, I encourage you to learn more about the St. Thérèse Legacy Society. Just complete this form requesting information; no commitment or gift is necessary at this time. In gratitude, the College will send you a copy of Stations of the Cross with Our Sister Saint Thérèse, by alumna author Suzie Andres ('87).
Of course, the real measure of gratitude will come in the form of the prayers of our students, offered at Masses on behalf of Society members for, God willing, centuries to come. And, some day, when we are reunited at the heavenly banquet, we can delight with each other and Our Risen Lord, reminiscing about the good work in which He, in His great generosity, allowed us to take part.

Until we meet again,
Rev. Cornelius M. Buckley, S.J.
Chaplain
Thomas Aquinas College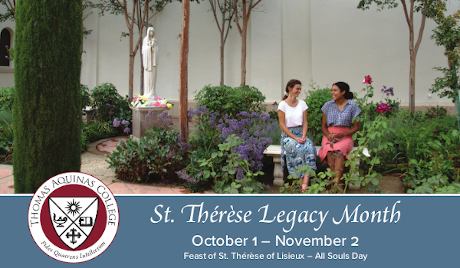 "There's a joy for life here you don't get in most places, a sense of purpose, a sense of love and fellowship bound up in our common cause of seeking the truth."
– Isaac Cross ('19)
Leominster, Massachusetts
"I was moved and edified by your remarkable fidelity to St. Thomas Aquinas. Your academic program proposes an original way of training men and women capable of reading, thinking and interpreting tradition correctly."
– Marc Cardinal Ouellet
Prefect of the Congregation for Bishops
NEWS FROM THE COLLEGE