Posted: June 19, 2018
Over the course of the last academic year, a group of enterprising Thomas Aquinas College students worked to establish an on-campus organization that will benefit others like them for years to come — the TAC Business Club.
"We had been thinking about a business club for some time," says Martin Haggard ('18), the group's first president, and a member of this year's graduating class. "Then in the fall, we were finally able to launch it. Vice President Paul O'Reilly was very supportive. He thought it would be a great resource for the students and for friends of the College, who could benefit from coming to know our students and maybe even hiring them." The group boasted more than 40 members by year's end.
Although the College's program of Catholic liberal education has long proved beneficial to students seeking careers in businesses, it can be mysterious to employers who are accustomed to hiring applicants with more specialized educations. "We know, from the firsthand testimony of employers, that our graduates make for some of the best workers because they are versatile, analytical thinkers with a strong ethical foundation," says Dr. O'Reilly. "Our hope in starting a business club was to make that evident to even more employers, while also giving students the tools to promote themselves in a competitive marketplace."
"Building the Foundation"
In its first year, the club hosted several events for students seeking careers in business. "One thing we have done is conduct interview-preparation sessions," says Mr. Haggard. "The club's officers ask members what kind of work they are interested in, research relevant questions online, then stage mock interviews with the students." The interviewees thus get practice at answering job-related questions, as well as in explaining how their education has prepared them. "We want them to have these ideas already in their minds," Mr. Haggard continues. "That way, when someone asks them a hard question, it's not the first time they have ever heard it."
The Business Club has worked with the College's Development Office to establish a mentorship program so that alumni, Regents, and other friends of the College can offer advice and networking assistance to students looking for work in their fields. As part of that program, the group has hosted business leaders for talks on campus, including Chuck Hass — co-founder of Covad Communications and MetroFi, Inc. — who in May spoke to members about his career, beginning with 15 years at Intel and leading up to his most recent venture, an effort to bring clean and inexpensive solar cooking to the people of Uganda.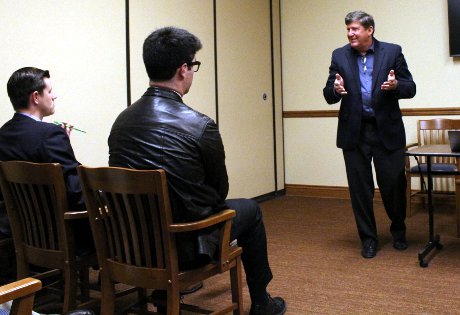 Chuck Haas speaks to members of the Thomas Aquinas College Business Club.
"The ability to think, learning how to solve problems — that's a skill set that's so lacking in a lot of employees, and that's what you learn in the great books," said Mr. Haas. "You may not know how to build a bridge, but you know how to learn how to build a bridge. … You are building the foundation for lifelong learning, which in this day and age, I think, is even more important than when I graduated."
The group also hosted a meeting last fall with Shane O'Reilly ('95), a Thomas Aquinas College graduate who, as staff vice president for corporate sourcing at Anthem, Inc., has recognized the unique potential of TAC grads in the workforce — and has hired six, to date. In addition, four members of the club traveled to Los Angeles this spring to meet with Stanley Black, chairman of the Black Equities Group, which owns 18 million square feet of commercial real estate in the U.S. "We're always looking for ways to learn from successful business leaders," says Mr. Haggard," who notes that many of his group's members make it a point to attend the business panels and workshops that the College's Office of Career Advisements hosts throughout the year.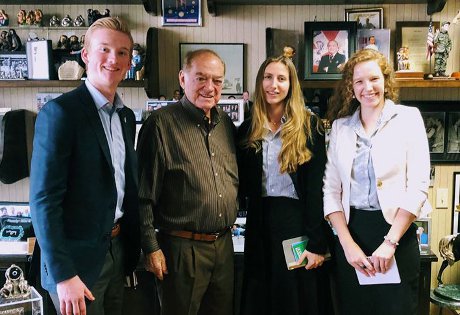 Stanley Black meets with members of the Thomas Aquinas College Business Club.
At an April discussion on artificial intelligence and the economy, for example, Business Club members heard from alumna Jane Nemcova ('98), vice president and general manager of global services for machine intelligence at Lionbridge, a global language services provider. "In the last three years that I have spent trying to lead the conversation on ethics and the bigger-picture ideas about what's going on in AI, I see that the industry needs people who are well-formed in philosophy," said Mrs. Nemcova. "I say 'philosophy,' but it's also math and logic and music — all of the things that give you a broad education — because they're absolutely fundamental."
Looking ahead, the College seeks to partner with employers through the College's Service Scholarship Program. More than 70 percent of Thomas Aquinas College students work part-time, on-campus jobs as part of their financial aid packages, and club members envision converting some of those jobs to paid internships. "The employer would pay the students the equivalent amount of a Service Scholarship," says Mr. O'Reilly. "That way, students could gain valuable experience while contributing to the cost of their education, and employers would be training potential employees at a pretty low cost."
Taking Off
In only one year, the club's efforts are already bearing fruit, with three members of the Class of 2018 taking jobs with alumni businessmen, and two current students working summer internships at Anthem. The club has also garnered attention from the local media: In May it was the subject of a story in the Pacific Coast Business Times, "Business Club takes off at Thomas Aquinas College."
Having graduated this spring, Mr. Haggard has moved to Jackson, Wyoming, where he now works as a project manager at Grupp Law Firm in Jackson, Wyoming. Yet the club he helped to found will continue: A rising sophomore, Ayla Rice Nulty ('21) will succeed him as president this fall, ensuring stability in leadership for the next several years.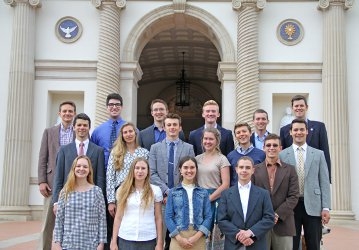 "At my alma mater and in the Marines, hard work and high standards are the norm."
– Major Brooks Braden ('97)
Judge Advocate, U.S. Marine Corps Reserves
"The students that have had an opportunity to be part of the life of the College have been enriched by their experience in an environment conducive to achievement. Now in all walks of life, graduates of Thomas Aquinas College are contributing, by following a wide variety of pursuits, to the betterment of society."
– Renato Raffaele Cardinal Martino
President, Pontifical Council
for Justice and Peace
CALENDAR
NEWS FROM THE COLLEGE