Posted: May 12, 2018
Note: At its 2018 Commencement exercises, Thomas Aquinas College awarded its highest honor, the Saint Thomas Aquinas Medallion, to the Most. Rev. Robert C. Morlino, Bishop of Madison, Wisconsin.
The Saint Thomas Aquinas Medallion, an award established by the College's Board of Governors in 1975, is a means of recognizing those Catholics who have shown, through their lives and work, an extraordinary dedication to God and His Holy Church. Each recipient has demonstrated unfailing adherence to the Magisterium as well as influential leadership in advancing the teachings of the Church. The Medallion is awarded by resolution of the Board of Governors on behalf of the entire College community.
Below are the remarks delivered by College President Michael F. McLean before Chairman of the Board of Governors R. ScottTuricchi awarded the medallion:
Introduction of Saint Thomas Aquinas
Medallion Recipient
By Michael F. McLean
President, Thomas Aquinas College
May 12, 2018
Today we are honored to have with us as our Commencement Speaker a good friend of the College, Bishop Robert Morlino of Madison, Wisconsin. This is His Excellency's second visit to our campus, the first having been in 2007, when he presided at our Convocation Day Mass and Matriculation ceremony. On returning home, aware that prelates regularly visit our campus, he sent us a very thoughtful gift — a bishop's crosier to have on hand for those who would prefer not to bring their own. It is that crosier that His Excellency carried this morning, and we are delighted he had the benefit of his own gift.
Bishop Morlino was born and raised in Philadelphia, where he was educated by the Jesuits. Following high school, he entered the seminary for the Maryland Province of the Society of Jesus and was ordained in 1974. He became a priest of the Diocese of Kalamazoo, Michigan, in 1981, and was made Bishop of Helena, Montana, in 1999, where he served until his appointment as Bishop of Madison in 2003.
His Excellency holds a number of advanced degrees, including a doctorate in Moral Theology from the Gregorian University in Rome, with specialization in fundamental moral theology and bioethics. Since 2005 he has served as the Chairman of the Board of Directors of the National Catholic Bioethics Center, which conducts research, consultation, publishing, and education to promote human dignity in healthcare and the life sciences, deriving its message directly from the teachings of the Catholic Church.
On Bishop Morlino's coat of arms there is depicted a book signifying his thirst for knowledge of things concerning God and His church, and his passion to share the content of our faith. Fittingly, His Excellency is a member of the United States Bishop's committee that encourages the Catholic identity of institutions of higher education.
At his core, Bishop Morlino is an apostle of the Truth that God makes known to us through both reason and revelation. His special concerns are the humanity of the unborn child, the dignity of human life at all its stages, and the nature of marriage as a lifelong bond between one man and one woman. In these cases and others, our faith confirms the teachings of the natural law written on our hearts.
These messages the world sorely needs to hear, but too often rejects. Bishop Morlino has been courageous in proclaiming the truth both in season and out, not unlike the lion depicted on his coat of arms.
So we are greatly honored to have Bishop Morlino with us today, and I thank him for taking the time to be with our graduating seniors, their families, and all of us — and to share in the joy of this day.
The Chairman of our Board of Governors will now come forward to award His Excellency the College's highest honor, the Saint Thomas Aquinas Medallion.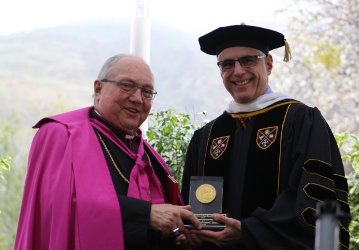 R. Scott Turicchi, Chairman of the Thomas Aquinas College Board of Governors, presents the Saint Thomas Aquinas Medallion to the Most. Rev. Robert C. Morlino, Bishop of Madison, Wisconsin.
CALENDAR
NEWS FROM THE COLLEGE