Posted: October 27, 2020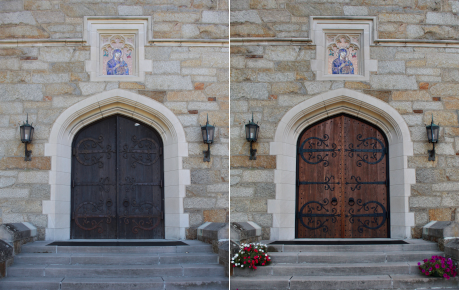 Before and after images of the front doors of Our Mother of Perpetual Help Chapel
Ever since Thomas Aquinas College acquired its New England campus in 2017, it has worked to rehabilitate many of the property's beautiful but old buildings, most notably Our Mother of Perpetual Help Chapel. The College recently came one step closer to returning this century-old gothic structure to its original glory by restoring the building's main doors.
After years of disuse and exposure to the elements, the doors had become cumbersome to operate and, at times, even distracting during Mass. This summer, alumnus craftsman George Krestyn ('03), who has played a key role in making the onetime Protestant chapel a suitable place for Catholic worship, fixed the problem at last.
"One half of those big entry doors weighs between 400 and 500 pounds," says Mr. Krestyn. "So it was a project just getting them off, bringing them to the shop, and moving them around." After stripping both metal and wood off the doors, he repainted and trimmed them in order to better fit the frames. He also fine-tuned the hinges and oversaw the installation of a new latch system. Students returned for the academic year pleasantly surprised by the elegant craftsmanship now on display for those entering this house of prayer. 

"Few schools anywhere can match Thomas Aquinas College's extraordinary blend of deep Catholic faith and rich academic formation."
– The Most Rev. Charles J. Chaput
Archbishop of Philadelphia
NEWS FROM THE COLLEGE