Posted: November 17, 2017
It was freshman Shelby Heaton who first made the discovery, a gradual realization that dawned over the course of several conversations with fellow Thomas Aquinas College students. "Wait, we have four 26-year-olds here," she thought, "one in each class!"
The College has a long history of second-time freshmen, students who enroll at an age older than most of their peers, usually after attending college or even graduate school elsewhere. Yet it just so happens that, at the moment, four of them — a freshman, a sophomore, a junior, and a senior — are all 26 years old. All came to the College later than most, but each for his or her unique reasons.
For sophomore Graham Crawley, it was a healthy bit of sibling rivalry that led him to come to Thomas Aquinas College. He had already earned a bachelor's degree in biomedical sciences at the University of Northern Arizona and spent two years as a malaria researcher — with plans to go on to medical school — when the experiences of his younger brother Xavier ('20) caught his attention. "Ever since Xavier came to the Summer Program, his life changed — for the better," Graham reflects. "I couldn't put a finger on what it was exactly." But when Graham learned about what Xavier was studying at the College, he knew he wanted the same.
"I was super-jealous," Graham confesses. "What the heck? I should have come here!"
And so he did.
Junior Ben Whalen originally came to the College when he was 19, but he found the transition to the Discussion Method difficult. He left after one year and then earned an engineering degree at North Dakota State University. Yet throughout his time there, and then afterward, when he worked in animation, he sensed that something was missing. "Through it all, I thought, 'Is this it?'" he remembers asking himself. "Is this what I am going to do for the next 5, 10, 20 years? There was a nagging feeling in the back of my mind that I had left something really good undone at TAC." He returned as a sophomore in the fall of 2016, five years after his freshman year.
Although admitted to the College while she was in high school, senior Siobhan Heekin-Canady deferred her admission four times so that she could pursue her career as an elite-level figure skater. In 2014 she competed in the Winter Olympics in Sochi, Russia, after which she hung up her skates and enrolled as a freshman that fall. "Every time I asked the Admissions Director, Mr. Daly, for another deferral, he was so supportive," she recalls. "He said, 'Take your time, the more experience you get out in the world doing what you're doing, the more you'll have to bring to the College.'"
Meanwhile Shelby — the senior member of this year's Freshman Class — intended to apply to Thomas Aquinas College when she was 19 but was, she admits, "complacent and intimidated." It took nearly seven years of working, first as a waitress and then as her parish's director of religious education, to help her realize that the fruits of a Catholic liberal education would outweigh the sacrifices. "I've seen that you're going to work hard no matter what you do in life," she says. "And so you might as well do what's best, because that is what will be the most rewarding."
Although the 26-years-olds came to the College later than their classmates, none regrets the delay. "While I would never say that everyone should start when they are older, I definitely think that my time here has been enriched by the experiences that I had before I came," says Siobhan. "My senior thesis is a great example. I'm writing about sports and the Christian life, which is something I have experienced personally as a skater. I now have the ability to examine those experiences from an intellectual standpoint, using everything I have learned here, and write a thesis on it. That's pretty cool."
For Ben, having left the College once allows him to offer comfort and reassurance — backed up by firsthand experience — to freshmen who, like him at one time, may feel overwhelmed by the rigors of the academic program. "I can be an example or encouragement for students who have come fresh out of high school," he says. "They can look at me and say, 'Whoa, this guy already earned a degree, but he still sees value in coming back.'"
All four of the 26-year-olds see the hand of Providence in the timing of their academic careers. "Since coming to the College, I have come back to the Faith," says Graham. "That makes me think there must have been something in God's plan that led me to be drawn here, because that wasn't my reason for coming." Adds Shelby, "I'm loving being here. It's a totally different way of learning how to think; they didn't teach me that at public school! It's really hard, but I'm not scared. I have a peace of mind because, for all that it took to get me here, this must be where God wants me."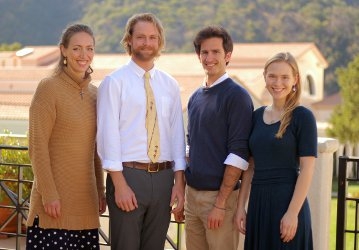 Shelby Heaton ('21), Graham Crawley ('20), Benjamin Whalen ('19), and Siobhan Heekin-Canedy ('18)
"Dynamic situations call for a nimble, dynamic mind, and the College really prepares you for that."
– Lt. Robert Mohun ('09)
U.S. Marine Corps
"I am constantly convinced that what you are doing in Thomas Aquinas College is the answer for today's ills."
– Rev. Wojciech Giertych, O.P.
Theologian of the Papal Household
CALENDAR
NEWS FROM THE COLLEGE