Faith in Action Blog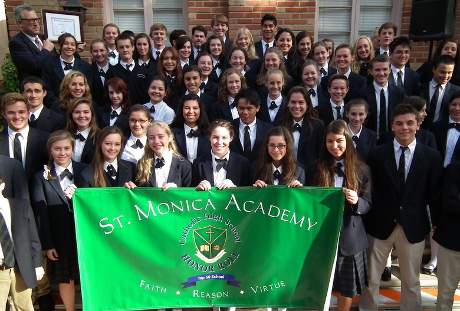 An education success story comes out of Montrose, California, where St. Monica Academy is relocating — because it has outgrown its original campus in Pasadena.
The K-12 school, founded in 2001 with 44 students, has seen its enrollment swell to 240. As a result, it is moving this summer to the campus of a shuttered parochial school at Holy Redeemer Church, where it will open its doors at the start of the academic year.
There are many ties between St. Monica's and Thomas Aquinas College, beginning with its headmaster, Marguerite (Ford '79) Grimm. There are also 10 other alumni on the school's faculty: Mary Kate Zepeda ('89), Darren Bradley ('98), Alexandra Currie ('05), Paula Grimm ('08), Daniel Selmeczy ('08), Marisela Miranda ('09), Jane Forsyth ('11), Colleen Smith ('11), Thomas Quackenbush ('14), and Thomas Trull ('15). Like the College, St. Monica's employs a classical curriculum and stresses fidelity to the teaching Church.
"The classical model emphasizes the good, the true and the beautiful," Mrs. Grimm recently told the Glendale News-Press. "Our curriculum overflows with heroes, beautiful illustrations, moral literature, music, poetry, scripture, math and science." St. Monica's is a mainstay on the Cardinal Newman Society's list of "Schools of Excellence," a ranking of the top Catholic schools across the United States, which also includes several others that are headed by Thomas Aquinas College alumni.
Notably, St. Monica's has developed a reputation for athletic excellence, too. The Glendale News Press notes that the school's sports teams have racked up 22 CIF playoff appearances and 13 league titles. This past year, the women's basketball squad, coached by Colleen Smith ('11) "won 18 consecutive games, while achieving the fourth-highest team grade-point average out of the 576 schools that are in the CIF Southern Section."