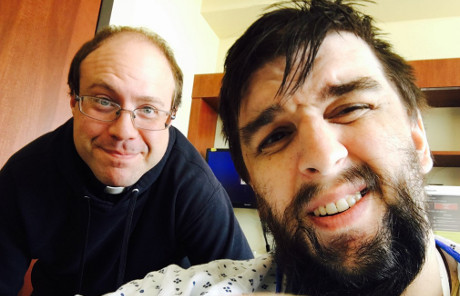 Rev. Josh Mayer ('03) and Andrew Baird ('04)
Andrew Baird ('04) has written in with an update on his medical condition:
Hello all!
A few weeks ago I was diagnosed with cancer. We are still trying to figure out exactly what type; the doctors have some leads, but nothing has been nailed down definitively. We know that that it's a rough case and treatment will be intense. But I'm up for it!
I went in for my first round of chemotherapy on Friday night and have thankfully been feeling great ever since. No bad side effects. My breathing has been easier, and I've gotten good rest. I'm currently in the hospital but expect to go home sometime this week to gear up for Round Two of chemo in a few weeks.
I've been entirely humbled and wowed by the love and support I've received from friends and family here in Wisconsin. They've moved mountains to be with me, and I love them for it. On top of that, Rev. Josh Mayer ('03) decided to swing out last minute and has been hanging with me the past several days. We've had a great time chilling and have celebrated Mass each day in the hospital room. Life is good.
I am overwhelmed by the outpouring of love and prayers that have come my way. Please keep them coming. I'm certain that much of my positive attitude entering into this situation is due to the grace that I'm receiving from all of your prayers. We ask for the intercession of both St. Peregrine and St. André Bessette for my strength and healing as the journey continues.
Onward and upward!
Much love to all,
Andrew Baird ('04)
Please continue to keep Andrew and his family in your prayers!