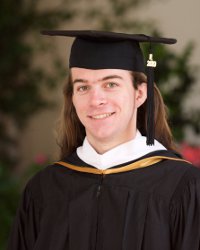 A member of the College's most recent graduating class, Thomas Graf ('19) is featured in the latest edition of Catholic Answers magazine, owing to one of the more amusing aspects of his job at the San Diego-based apologetics apostolate. In the editorial, editor Tim Ryland discusses some of Thomas' discoveries while checking over YouTube's auto-generated captions for CAL videos. Apparently algorithms struggle with the jargon of the Faith, producing some hilarious mis-transcriptions, such as:
A mac to the Heart (Immaculate Heart)
Pop a rat singer (Papa Ratzinger)
Tow mystic (Thomistic)
Kappa Gas is Live (Catholic Answers Live)
Mr. Graf interned at Catholic Answers between his junior and senior years at the College, and is now a fulltime employee in its video, radio, and marketing departments. "Having a firm foundation in the philosophy and theology of the Catholic faith," he said at graduation, "will help me to communicate these very difficult, higher concepts with the broader world" — starting with YouTube!