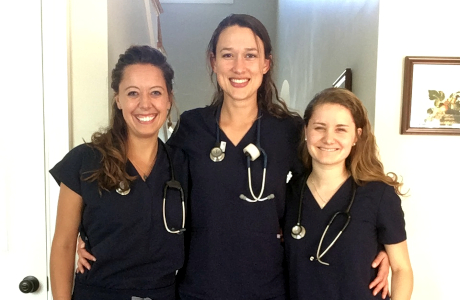 Katie Ellefson, RN, BSN ('16), Joanna Kaiser, RN, BSN ('15), and Annamaria Masteller, RN, BSN ('16)
"I got hired onto a medical floor where normally we see a wide variety of patients," reflects Katie Ellefson, RN, BSN ('16), who in February began her first nursing job at the Inova health system's medical campus in Fairfax, Virginia. "Three weeks after I started, our entire floor was turned into a COVID unit."
This wasn't how Miss Ellefson or her two fellow Thomas Aquinas College alumnae — Joanna Kaiser, RN, BSN ('15), and Annamaria Masteller, RN, BSN ('16) — envisioned their medical careers would begin. The three friends, all recent nursing-school graduates, accepted positions at the same hospital only weeks before the outbreak of the novel coronavirus upended American medicine. Now it consumes their days.
"The day I came to shadow during orientation week was the day our unit transitioned to a COVID-19 unit," says Miss Kaiser. Adds Miss Masteller, "For the first three weeks of my job, I was able to have a somewhat normal orientation with just regular medical/surgical patients. Now we are specifically caring for COVID patients."
The timing, they say, is providential. "You know you have a great job when you arrive at the hospital for a 13-hour night shift, groggy and a touch cranky, and you leave the next morning peaceful and happy," says Miss Ellefson. "I'm very grateful that I became a nurse in time to be able to help out in whatever ways I can in this crazy time."
Bonds of Friendship
When they graduated from Thomas Aquinas College a few years ago, none of these new nurses had immediate plans to pursue medical careers. While Miss Kaiser considered entering religious life, all three traveled and worked various jobs near the California campus until — inspired, in part, by each other — they began to take prerequisite classes and apply to various nursing programs. "It was so wonderful to have these girls with me along for the whole journey," says Miss Kaiser. "We worked together, took classes together, and supported each other throughout the application process."
Eventually Miss Masteller and Miss Kaiser enrolled in an accelerated program at the University of Massachusetts, Amherst, where, Miss Kaiser notes, they "enjoyed the community life at TAC, New England, while we studied." Miss Ellefson, meanwhile, enrolled in a similar program in Cleveland, Ohio, and the three met up again in Virginia after completing their licensing examinations earlier this year. 
For these friends, working together during this time of isolation is a great comfort. "One thing that has really been affected with this virus is our ability to mingle with other new nurses in the hospital," says Miss Masteller. "There are usually classes and meetings every other week for the new nurses to gather and share the various experiences that come along with being new to the unit. I am so lucky, however, to have two very close friends who are starting at the same time." 
Practicing in Times of Pandemic
Although the pandemic has not much changed the essential duties of nursing, the nurses report, rampant fear and uncertainty have radically altered the environment in which medicine is practiced.
"In order to limit our contact with patients, we try our best to cluster care, spending only 20 minutes at a time in each room," says Miss Masteller. "And, of course, we are fully gowned and gloved, with masks and face shields. We also are doing more frequent checks of their respiratory status." As researchers learn more about the nature of the virus, healthcare workers must modify their practices accordingly. "Policies at the hospital are changing almost every day," says Miss Kaiser, "as we attempt to adapt and respond to the needs of the community and the needs of the staff."
The crisis, however, is most distressing for the nurses' patients, who must battle a mysterious, possibly deadly illness without the consolation of visits from friends and family. "Most of the time we are the only people who are physically coming into the room to check on these patients," says Miss Ellefson. "They are generally more lonely, scared, and anxious than our typical patients. Being able to be the person who can go in there and cheer them up and make their stay even just a little better has honestly been such a gift."
This is, after all, what drew these young women into medicine in the first place: the opportunity to comfort the afflicted in their time of need, and it makes even the newly heightened dangers of the medical profession worthwhile. "Being infected with some illness at the hospital has always been a risk for healthcare workers, and it was a risk I chose to take when I chose this profession," says Miss Kaiser. "I am confident that God has me where He wants me, and I am focusing on learning as much as I can during my orientation, so that I can provide the best care I am able."
Formed and Fortified
It is their faith, the nurses say, that gives them the strength to withstand their arduous entry into the nursing profession — a faith nurtured and deepened during their time at Thomas Aquinas College. "The education and community life at TAC provided me with a solid foundation in the faith and a love of truth that has been a rock to stand on in uncertain times and a shield from the anxiety of the world," says Miss Kaiser. "At the College I learned that ultimately everything is in God's hands," says Miss Ellefson. "We have to trust Him entirely and not give in to the panic, anxiety, and stress that the world is constantly pushing on us."
Although she has known that she wanted to be a nurse since she was eight years old, Miss Ellefson says she has no regrets about earning a bachelor of liberal arts degree at the College before going to nursing school. "My years at TAC prepared me for nursing in ways I never planned or foresaw," she explains. "I left with a clearer, more analytical mind; I am able to reason better and, above all, empathize better." As Miss Masteller puts it, "Having already been to college, and especially to a college like TAC, I was able to take my nursing studies very seriously and enter the field with a very holistic approach, seeking to understand the full picture of each body system, disease, or medication, and not just memorize what was placed in front of me."
Their Catholic liberal education has prepared them to enter their new profession with a peaceful and confident longing to serve, even amidst much turmoil and anxiety. "Being a nurse is challenging in many ways, and nobody would ever say that it's glamorous," says Miss Ellefson. "But we are offered concrete opportunities every moment of every shift to ease the suffering of our patients and make their nights a little better in very simple ways — and that can be very rewarding."