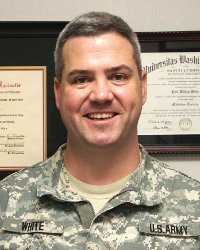 Add two more titles to the honorifics that Dr. Paul W. White ('95) has earned over the course of his career as a physician and officer in the United States Army: "Colonel" and "Consultant to the Surgeon General for Vascular Surgery."
In 2006 Dr. White began a two-year fellowship in vascular surgery at Walter Reed Army Medical Center in Washington, D.C. Six years later he was named the fellowship's director, training the Army's general surgeons to become vascular surgeons by teaching the latest methods in research, testing, imaging, and surgery, both endovascular and conventional. In this capacity he became, in 2016, the consultant to the Surgeon General for vascular surgery. Last June he was promoted to the rank of colonel.
"I still work directly with patients because a lot of surgical training is apprenticeship-based, where we're training the fellows in the operating room," he explains. "But as an active duty Army officer, I have deployed several times, and I have other duties as far as field exercises, teaching courses, research, and academic work." Dr. White is also a devoted husband to his wife, Margaret, and father to their seven children, ranging in age from 16 months to 16 years.
Additionally he finds time to serve his alma mater as a member of Thomas Aquinas College's Washington, D.C., Board of Regents. "I am happy to do it because my four years at the College were as formative as any in my entire education," he says. "I owe a huge debt of gratitude to the College, and if there is anything I can do to help it in any way, it is my pleasure and joy."