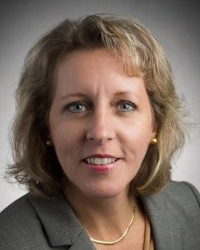 Please pray for the repose of the soul of Patricia Kessler ('87). A senior attorney at the U.S. Department of Justice, on assignment at the U.S. Embassy in Tanzania, she had taken a short vacation to do some scuba diving in the Red Sea. On November 1, when fire broke out on the boat, it appears that she helped other passengers to escape, but did not make it off herself. Her family presumes that she died in the ordeal.
After her graduation from the College in 1987, Patty earned her juris doctorate from the University of Notre Dame. She then joined the U.S. Navy's Judge Advocate General's Corps, where she served as senior defense counsel, department head, and advisor to the Judge Advocate General. For the next seven years she worked as an assistant U.S. attorney at the U.S. Department of Justice, followed by eight years in private practice. She returned to the Justice Department in 2015 as a senior trial attorney in the Asset Forfeiture Section of the Criminal Division.
A lifelong friend has paid tribute to Patty saying,
I have poignant memories of long, philosophical conversations with Patty during college. She studied TRUTH. It gave her pleasure to examine: "What is Truth? How do we know the truth about anything? What does it mean to seek truth? Why should we seek truth? Should we seek truth for truth's sake? What if the truth does not change the outcome of a situation?" She concluded that seeking the truth, speaking the truth and acting on the truth, and constantly wrestling with the truth is what we all must do to achieve a happy life, or our world will devolve into the Hobbesian description, which is "nasty, brutish and short."
Please keep Patty in your prayers, and please pray for the consolation of her family, especially for her two daughters.
Eternal rest, grant unto her O Lord and let perpetual light shine upon her. May her soul and all the souls of the faithful departed rest in peace.