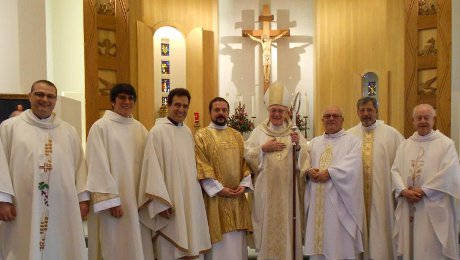 On November 17, the Most Rev. Thomas J. Curry, Auxiliary Bishop of Los Angeles, ordained Br. Ryan Morris Wolford, C.R.I.C. ('97), to the transitional diaconate. The Ordination Mass took place at St. Sebastian Church, one of two parishes that Br. Ryan's community, the Canons Regular of the Immaculate Conception, serves in Santa Paula, Calif.
By God's grace, Br. Ryan will be ordained to the priesthood in 2013. In the meantime, he is in Mundelein, Ill., earning a license in theology at the University of St. Mary of the Lake. He previously earned his sacrae theologiae baccalaureus at the Angelicum in Rome.
"I would just like to express my thanks to God for my Thomas Aquinas College experience," Br. Ryan writes. "Four years' studying Aristotle, and a good start in St. Thomas, have proven invaluable to my subsequent education; but most of all I am thankful that my time at the College led to my conversion to Catholicism and my eventual pursuit of the priesthood."
Please keep Br. Ryan your prayers!