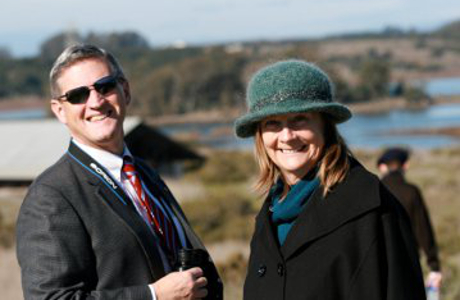 Dan and Rose (Teichert) Grimm (both '76)
The family of Rose (Teichert '76) Grimm reports that she has been diagnosed with Stage IV ovarian cancer and will soon undergo aggressive treatment. Her daughter Wendy-Irene Zepeda ('99) requests friends pray "to two Blesseds specially dear to my mom: Bl. John Henry Newman and Bl. Solanus Casey," and helpfully suggests the following two prayers:
Prayer through the intercession of Bl. Solanus Casey
O God, I adore You. I give myself to You. May I be the person You want me to be, and may Your will be done in my life today.
I thank You for the gifts You gave to Blessed Solanus. If it is Your will, grant the canonization of Blessed Solanus so that others may imitate and carry on his love for all the poor and suffering of our world.
As he joyfully accepted Your divine plans, I ask You, according to Your will, to hear my prayer for Our Lady's intentions for Rose Grimm, especially that if it be Your will she be speedily, completely healed, through Jesus Christ our Lord.
"Blessed be God in all His designs."
Amen.
Prayer through the intercession of Bl. John Henry Newman
O God our Father, You granted to Your servant Blessed John Henry Newman wonderful gifts of nature and of grace, that he should be a spiritual guide in the darkness of this world, an eloquent herald of the Gospel, and a devoted servant of the one church of Christ. For his insight into the mysteries of the Kingdom, his zealous defense of the teachings of the Church, and his priestly love for all your children, we pray that he may soon be numbered among the canonized saints, and that You grant, through his intercession, all Our Lady's intentions for Rose Grimm, especially a speedy and complete cure, if that be Your holy will. Through our Lord Jesus Christ, your son, who lives and reigns with you in the unity of the Holy Spirit, one God, forever and ever. Amen.