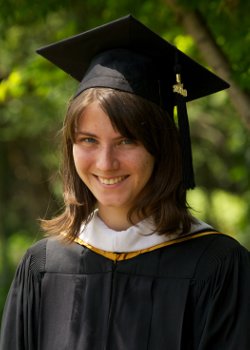 Rosie Grim ('10) reports via Facebook that she is applying to participate in several clinical trials for an anti-cancer drug that is not yet on the market. She may also require another surgery on the tumor in her neck. Still, she says, "I'm feeling fabulous and have started jogging."
On Wednesday she left with her father and brother for a pilgrimage to Lourdes, England (where she will visit sites related to Bl. John Henry Cardinal Newman), and Cascia (home of her beloved patroness, St. Rita). Please keep their intentions your prayers.
In addition to their prayers to Bl. John Henry, the Grimms have also invited friends to join them in the following devotion to St. Rita:
+Dear Rita, model wife and widow, you yourself suffered in a long illness showing patience out of love for God. Teach us to pray as you did. Many invoke you for help, full of confidence in your intercession. Deign to come now to our aid for the relief and cure of Rosie. To God all things are possible; may this healing give glory to the Lord. Amen.
+Oh ever immaculate Virgin, Mother of Mercy, Health of the Sick, Refuge of Sinners, Comfortess of the Afflicted, you know my wants, my troubles, my sufferings. Look upon me with mercy. When you appeared in the grotto of Lourdes, you made it a privileged sanctuary where you dispense your favors, and where many sufferers have obtained the cure of their infirmities, both spiritual and corporal. I come, therefore, with unbounded confidence to implore your maternal intercession. My loving Mother, obtain my request. I will try to imitate your virtues so that I may one day share your company and bless you in eternity. Amen.