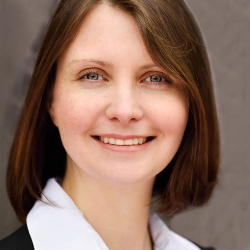 Stephanie (Bujnak '07) Ward"Efficient, pleasant, environmentally friendly work spaces have a ripple effect in society and beyond," says Stephanie (Bujnak '07) Ward. "Kitchens are no exception."
As a foodservice consultant in Henrico, Virginia, Mrs. Ward pursues the good, the true, and the beautiful in her work of designing kitchen and service space for schools, airports, retail, and specialty markets across the United States and beyond. A recent profile in the online publication of the Foodservice Consultants Society International reveals that she "was not necessarily looking to get in to foodservice consulting as a career," but came upon it somewhat circuitously.
"She first got a taste of kitchen design five years before exploring it as a potential career," the profile notes. "The summer after college graduation, the kitchen manager at her alma mater found out Stephanie knew the AutoCAD design software. The manager was interested in reorganizing a cook line and adding some equipment pieces to the kitchen, and asked Stephanie if she would be interested in drawing up the plans and elevations for the contractors. She laboriously drew each item from scratch based on the cut sheet data in order to put the drawing together for construction. Stephanie said about this experience, 'Destiny was knocking, but it was going to take me another five years to answer the door.'"
The full profile and an accompanying interview are available via the FSCI website.