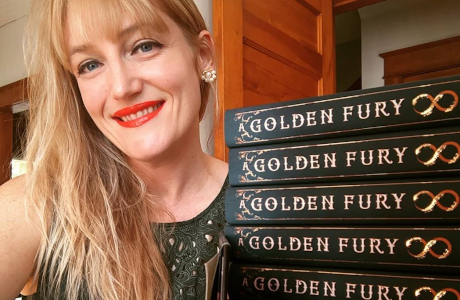 Samantha (McCall '06) Cohoe
"On the eve of the French Revolution, a teenaged alchemist is on the verge of a great discovery. But its cost may be her mind."
That's the one-line pitch that alumna author Samantha (McCall '06) Cohoe makes for her newly released young-adult novel, A Golden Fury (Wednesday Books). The historical fantasy ("more historical than fantasy," she explains) follows the perilous adventure of protagonist Theosebeia Hope as she risks her life and her sanity in an always brave, sometimes foolhardy, and occasionally terrifying pursuit of alchemy's greatest prize: the Philosopher's Stone.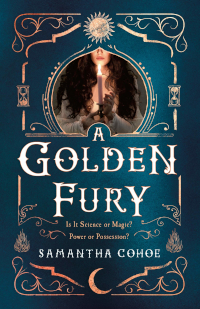 "The goals of alchemy always seemed like they were worthy of having a fantasy story written about," reflects Mrs. Cohoe. "The boldness of thinking that, if you get everything right, you can scientifically create eternal life and turn lead into gold, seemed promising as a setup." The result is a quick-paced, entertaining read that gently touches upon worthwhile questions about natural law, human dignity, pride, parenthood, ambition, and loving one's enemies.
There are encounters with evil along the way, but none, the author insists, that need give parents concern. "My characters believe that alchemy is a science and pursue it as such, but yes, they do run into some supernatural stuff," she says. "Without spoiling too much of the plot, I would reassure parents that any child who comes away from the book with a heightened curiosity in dark magic would have had to misread the book very badly. I would also add that any book can depict evil without endorsing it, as readers of great books know."
Throughout A Golden Fury one can find several hints of the author's liberal education, including smatterings of Latin and references to Rousseau. "To write historical fantasy, you have to do a lot of research," notes Mrs. Cohoe, who credits the College's Great Books curriculum with helping her to better understand history's would-be alchemists as well as the characters she brings to life. "Reading primary sources and really getting into the minds of the writers in that time — and seeing the coherence of their world views, rather than just judging them from a modern perspective — helps me to write better historical fiction."
Mrs. Cohoe lives with her husband, Caleb ('06), a philosophy professor at Metropolitan State University of Denver, and their three children in Colorado. Previously a Latin teacher at a classical Christian school, she left the classroom earlier this year to dedicate more time to her writing. Her next work, Bright Ruined Things — which she likens to "The Tempest meets The Great Gatsby" — is due to be released in fall 2021.