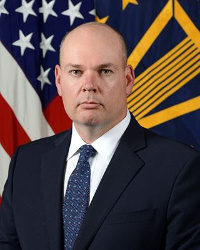 Back in June, the U.S Department of Defense announced that a graduate of the College, Thomas A. Alexander ('99), had been named the Deputy Assistant Secretary of Defense for Counter Narcotics and Global Threats. In that capacity he is a member of the Senior Executive Service, overseeing a budget of $1.1 billion and leading the Pentagon's global counterdrug, counter-transnational organized crime, and counter-threat finance policies.
Mr. Alexander holds a juris doctor from the Ave Maria School of Law. Prior to joining the Department of Defense, he served as chief counsel to the Committee on Foreign Affairs in the U.S. House of Representatives. As senior advisor to the chairman, he led the committee's efforts to oversee programs and policies pertaining to a wide range of issues, including counterterrorism and foreign assistance, as carried out by various federal agencies, such as the State Department and USAID.
Mr. Alexander also served as National Security Subcommittee Staff Director for the Committee on Oversight and Government Reform in the U.S. House of Representatives. There, he formulated and led numerous hearings and investigations of programs administered by the Department of Defense, Department of Homeland Security, Department of State, and USAID. Topics ranged from reconstruction efforts in Afghanistan and Iraq to combating trafficking and illicit cross-border networks into the United States.
Earlier in his career he worked in the Department of Defense as the Director of Congressional Investigations in OSD-Legislative Affairs and, prior to that, as Counsel to the Oversight Subcommittee on Energy and Natural Resources in the U.S. House of Representatives.
Please pray for his work in service of the country and the world!