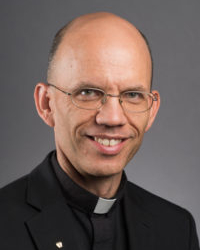 Rev. Gary Selin, S.T.D. ('89)"Amid new challenges to priestly celibacy at the Vatican's Amazon Synod and from other corners of the Church," writes the Cardinal Newman Society, the Church needs witnesses who are "well-prepared to dispel errors and misconceptions about this important discipline of Catholic priests." Among these witnesses, the story continues, is Thomas Aquinas College alumnus Rev. Gary Selin, S.T.D. ('89), formation advisor and assistant professor at St. John Vianney Theological Seminary and the author of Priestly Celibacy: Theological Foundations.
As part of its ongoing Profiles in Faithful Catholic Education series, the Newman Society has published an interview with Fr. Selin, whose book presciently preceded the renewed debate on priestly celibacy by three years. "The principal reason for celibacy is that it perfects the configuration of the priest with Jesus Christ, the Head of the Church," he says. "Celibacy consequently allows the priest to give himself more freely to the Church in imitation of Christ." 
He also discusses his time at the College. "I treasure the memories of the many wonderful hours in the classroom, as I learned from the sources of wisdom of the Great Books that formed our Western civilization, under the guidance of our well-formed tutors of the college," says Fr. Selin. "These excellent conversations continued over meals, during walks, and into late night in the dormitories. One can never put a price tag on these conversations that made life worth living."
This experience, he adds, proved invaluable in preparing him for his current work with seminarians. "My time at the College helped me begin to acquire the virtues necessary in becoming a disciple before learning to be a leader," observes Fr. Selin. "I am very grateful to the College for giving me the environment in which I was able to grow in those virtues."
The full interview is available via the Cardinal Newman Society website.