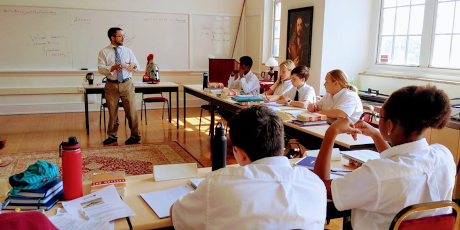 Will Bertain ('08) teaches a class at the St. Jerome Institute
At the St. Jerome Institute (SJI), a just-opened, classical high school in Washington, D.C., "the curriculum is designed as a single, unified, four-year program of study," in which "students and tutors collaborate on analyzing reading, exploring questions, and formulating arguments." Perhaps it should come as little surprise, then, that a graduate of a college with an integrated, classical curriculum, taught via the Discussion Method, would be a good fit to help lead such a school — and why SJI hired Will Bertain ('08) as its first assistant headmaster.
"I was thrilled to hire Will," says Peter Crawford, the school's headmaster. "Will's philosophical formation from Thomas Aquinas College enables him to offer teenagers a deep academic mentorship. Additionally, his many years of experience serving students in classical, Great Books, liberal arts schools, and the practical insights he has gleaned in this time, will be key to the success of our school. Of greatest importance, Will's personal commitment to virtue and excellence makes him a living lesson for all of our students. His leadership is a true gift to the hearts and minds of our first class and future generations of students."
A founding faculty member and master teacher at Glendale Preparatory Academy, Mr. Bertain worked for the Great Hearts Academies in Arizona for more than a decade, holding the positions of academic dean and interim-assistant headmaster at Anthem Preparatory Academy. He taught middle and high school students in a wide range of courses, including history, Latin, mathematics, and Humane Letters. He also led numerous enrichment seminars and pedagogical workshops for Great Hearts teachers.
"I was deeply blessed, professionally and spiritually, by my time at the Great Hearts Academies," he says "As the years went on, though, I was increasingly drawn toward the possibility of working in an authentically Catholic school setting. When I had the chance to read some of the core documents for the St. Jerome Institute, I was profoundly moved. I thought to myself something along these lines: 'Wait a second ... someone is actually doing this?! This is exactly what any new Catholic high school should be doing!' I am deeply grateful for being given the opportunity as the assistant headmaster to be a part of such a project."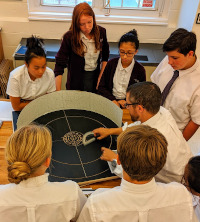 With informal ties to nearby St. Jerome Academy, which serves elementary- and middle-school students, SJI aims to extend a liberal arts education to high school students in the region. "The Socratic seminar-discussion method holds pride of place as a pedagogical tool for us, as we contend that engaging in give-and-take inquiry with fellow students, working together toward understanding the Truth, addresses a fundamental human need," says Mr. Bertain. "Our curriculum is one designed not only to cultivate the intellectual virtues, but to also further the development of the virtues of the body and the spirit — which is why we include physical education and pursue opportunities for community service."
In addition to his work as an educator, Mr. Bertain is a busy husband and father. Joining him for his cross-country move to help found SJI and "get out of the Arizona heat" are his wife and TAC classmate, Michelle (Kuenstle '08), and their six children. "I am so very grateful to my amazing wife, who has been a source of such strength for me," he says. "I am also incredibly thankful to my alma mater, Thomas Aquinas College, to all of the faculty and staff, for having blessed me with the education I received. The longer removed I am from my time there, the more deeply I thank God for giving me the life-changing experience of being a student at Thomas Aquinas College."