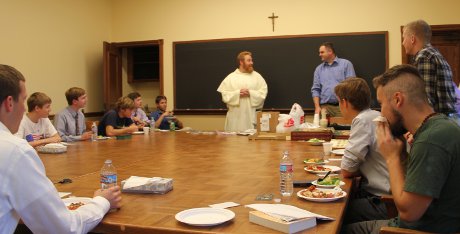 Classmates: Rev. Michael Hurley, O.P. ('99) and Director of Alumni Affairs Mark Kretschmer ('99)
Sixteen years after his graduation, Rev. Michael Hurley, O.P. ('99), returned to Thomas Aquinas Tuesday night to present a vocational talk, "The Life of a Dominican Priest." Some 20 young men came to the discussion, in which Fr. Michael, the pastor of the 2,500-family St. Dominic's Catholic Church in San Francisco, described his journey to Thomas Aquinas College, his vocational discernment, and a "typical day" of shepherding souls in a busy urban parish.
Fr. Michael graduated from the College in 1999, and joined the Western Dominican Province shortly thereafter. He then studied at the Dominican School of Philosophy and Theology, earner master's degree in both philosophy and theology. Since his ordination in 2007 he has served various parishes in the Bay Area before becoming the pastor of St. Dominic's Church.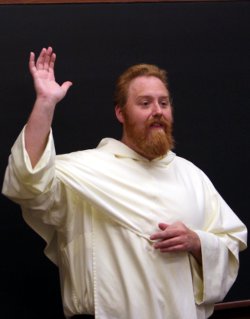 "What led me to the Dominicans and the Dominican life," he reflected at Tuesday's dinnertime discussion, is "very similar to the reason why I came to the College." When he was a teenager, his parents enrolled him in a fundamentalist Protestant school where his peers challenged his faith, he says, and "I became the Catholic answer guy, but I had no idea how to be the Catholic answer guy." Seeking a college experience "that would help me think about my faith in a kind of deeper, personal way," he came to Thomas Aquinas College, he says, drawn by the strong sense of Catholic community and robust sacramental life" — qualities that ultimately drew him to the Order of Preachers, as well.
Over the course of his talk, Fr. Michael took questions and spoke frankly about both the challenges and blessing of his vocation. "Let me give you my schedule from two Saturdays ago," he said. "I got up, and we celebrated the 8:00 a.m. Mass. Then I had a baptism at 10, followed by a funeral. Then we had a wedding. Then there were confessions before the 5:30 Mass. Then came the vigil Mass, after which I got a phone call, because we are on call for three hospitals in the area. Someone had had a heart attack while swimming in the Bay and was basically on life support" — and so the priest had to rush to the scene to perform an anointing.
"I have to say, at the end of the day, no doubt, I was taking a deep breath," he recalled. "But I just said, O Lord, what a life — to be able to be rejoicing with those who rejoice, weeping with those who weep."
As a pastor, he continued, he has the privilege of being an alter Christus in the lives of the faithful. "A lot of these folks I don't even know personally, but when you're a priest, when you're a Dominican, when you wear this habit, people know you in a sense. They have that sense of connection, and you can be personally Christ for them. It's not like they know who I am; they know who Christ needs to be for them. For me, there is nothing more inspiring, delightful, and wonderful."