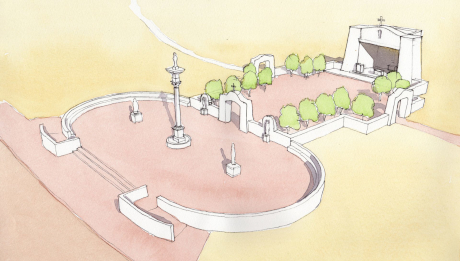 More than a year after the groundbreaking ceremony, work continues apace on a forthcoming shrine to St. Kateri Tekakwitha just south of Gallup, New Mexico, designed by alumnus architect Erik Bootsma ('01). Sponsored by the Knights of Columbus, the Southwest Indian Foundation, and the Diocese of Gallup, the shrine will include a chapel, a museum, and an outdoor Rosary walk consisting of 30 stations housed in adobe niches.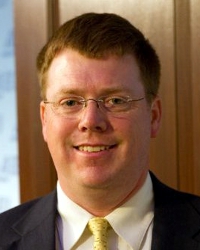 Erik Bootsma ('01)"I went out this July and checked in on the project, and it's moving along well," says Mr. Bootsma. "They so far have a number of the Rosary 'bead' shrines up, and have just started planning for the Guadalupe 'link' shrine to start this fall."
The site, Mr. Bootsma explains, is "designed in a Spanish Colonial style to note the Mexican heritage and connection to the Native Saint Juan Diego." As such, it is being built mostly with all-natural materials and in keeping with Native construction technique. "We're minimizing steel as much as we can and relying on adobe and wood," Mr. Bootsma adds, "which, as the churches built in the 17th century in the area show, can last for centuries."
Canonized by Pope Emeritus Benedict XVI in 2012, St. Kateri was a 15th century member of the Mohawk Tribe who converted to Catholicism. She is the first canonized Native American and the patron saint of indigenous people.
"This shrine is particularly meaningful for Native American Catholics because it is dedicated to St. Kateri Tekakwitha," Rev. Henry Sands, director of the National Black and Indian Foundation, tells the Arlington Catholic Herald. "It's an acknowledgement of the role that she plays in the Catholic Church, not just as an example for Native Americans, but for all Catholics."
Several other members of the College community are also involved in the project. "Patrick Mason ('03) with the Knights of Columbus nationally is coordinator on that side, and Jeremy Boucher ('03) is managing the project on the ground," notes Mr. Bootsma, adding that Bill McCarthy — chief executive officer of the Southwest Indian Foundation; husband of Cathy (Short '77); and father of Brigid (Strader '04), Therese (Monnereau '05), Erin (Feeney '07), John ('11), Aileen ('14), Liam ('18) — "is spearheading the whole project."
Designing the shrine marks a professional change of pace for Mr. Bootsma, a classical architect who ordinarily specializes in church designs and renovations. "This is really unique because it is not necessarily purely liturgical, but devotional," he observes. "It's a good opportunity for creativity and to do something really great within [Native American] traditions."