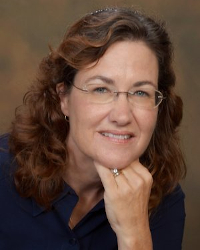 Margaret (Steichen '84) O'ReillyAlumna author Margaret (Steichen '84) O'Reilly has published a novel about the life and work of a saint of particular interest to readers of this blog: the College's patron, St. Thomas Aquinas.
In Humble Servant of Truth, Mrs. O'Reilly tells the story of the Angelic Doctor, beginning with his precocious, deeply faithful childhood, and continuing through his days as a monk and scholar, touching upon his numerous, glorious encounters with the Divine. The work is part of the Mentoris Project, founded by a member of the College's Board of Governors, Robert Barbera, which publishes biographies and novels based on the lives of prominent Italians and Italian-Americans.
Mrs. O'Reilly discusses the book in a recent episode of the Mentoris Project Podcast. In the half-hour interview with host Roseanne Welch, she discusses a wide range of subjects, beginning with why Aquinas' work "matters" today. "I think it matters the same way that you would say the Pythagorean Theorem matters in math, because truth matters," she says, echoing the slogan of her alma mater. "If somebody discovers some truth, it's important later, too, and not just at the time that he found it. The things that Thomas Aquinas figured out with his incredible mind are helpful to those of us who maybe wouldn't see them otherwise, as well as to later philosophers and theologians, who can build off of them."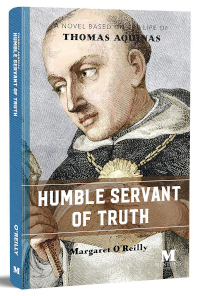 A home-schooling mother of 12 children, Mrs. O'Reilly also discusses the role the College played in preparing her to write her first book. "We studied St. Thomas with respect through all four years, and especially the latter years," she recalls. Moreover, the College provided her with mentors who fostered her love of learning. "In college I had the most admirable tutors and other influences in my life — people who were so good, and whom you could really admire," she says. "I knew that I would be in good shape if I just followed their example and advice and learned from them."
From these mentors she acquired a devotion to the Angelic Doctor, which she is pleased to share with others through her writing. In St. Thomas, Mrs. O'Reilly reflects, we see the unity of faith and reason that is at the heart of the Catholic faith. "Because he had such a powerful intellect, he wanted to see and then to teach the reasons that he saw for the things that he believed."
Roseanne Welch interviews Margaret O'Reilly.