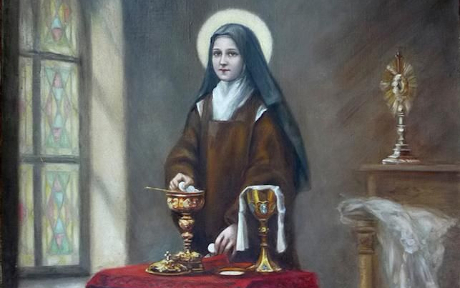 "We are living in a time when the new normal means hunkering down at home, watching too much news, and being deprived of the Holy Sacrifice of the Mass," writes alumna author Suzie Andres ('87) at Catholic Exchange. "Thanks be to God for these graces, and yet, what a sacrifice for so many: to be deprived of attendance at Mass and its concomitant Gift of gifts, Holy Communion."
Suzie Andres ('87)Demonstrating an incredible knack for timing — or, more likely, the role of providence in her work — Mrs. Andres has just published a new book perfectly timed for this moment: Something New with Saint Thérèse: Her Eucharistic Miracle. The book is already a hit, having grabbed the No. 1 spot among new releases on Amazon's "Christian Saints" list and fluctuating between 4th, 5th and 6th places in the "Bestsellers in Christian Saints" category (where it has vied with such greats as St. Augustine's Confessions and St. Thérèse's own Story of a Soul).
Something New describes the Eucharistic miracle by which Our Lord satisfied St. Thérèse's "desire to receive Him in Communion much more frequently than seemed possible," at precisely the moment when so many of the faithful are suffering the same anguish. "No one need be deprived of Our Lord's Real Presence," observes Mrs. Andres, a Third Order Carmelite who has long had a devotion to the Little Flower. "St. Thérèse is inviting all little souls, as she invited those around her in the Lisieux Carmel at the end of her earthly exile, to live this miracle so as never to be separated from Jesus again."
In a generous act of solidarity with fellow Catholics during challenging times, Mrs. Andres is offering the electronic version of Something New with Saint Thérèse: Her Eucharistic Miracle for free. She is likewise doing the same with two of her other works: Stations of the Cross with Our Sister St. Thérèse and The Paradise Project, "a fun read-aloud or read-alone, a hymn of praise to Jane Austen and hoot of gratitude to P.G. Wodehouse guaranteed to make you laugh out loud, despite the latest news."
Stations of the Cross with Our Sister St. Thérèse is, like Something New, a new work. "This book began about 15 years ago, but came together miraculously, on a whim of Jesus, in the last three weeks or so," says Mrs. Andres. It contains encouragement from St. Alphonsus and opening prayers, pen-and-ink illustrations of the traditional 14 Stations, and, for each Station, Scripture quotes, prayers, and three quotes from St Thérèse. In the short time since its release, the book has already been translated into Vietnamese by a Vietnamese sister for use in her religious community.
"Jesus is doing such beautiful things in this unprecedented time of great sacrifice of free access to the Sacraments," says Mrs. Andres. "I would like to be part of sharing Him with the thirsting world, and part of our satiating His thirst. The little way He has given me is in this gift (to me) of my being able to give away (to everyone) this great secret of His and Thérèse's — that we might ask Him to remain in us as in so many tabernacles, that is, that He might remain in us sacramentally (in His Real Presence) between Communions."