Summer Program Blog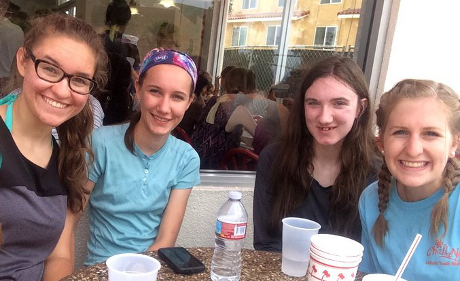 Summer Program student Maria B-H (left) with classmates during their trip to In-N-Out Burger
"It was truly two of the most amazing weeks in my life," writes Maria B-H of her experience at the 2016 High School Summer Program. On her blog, Earl Grey Soliloquy, Maria shares photos from her time in the program, as well as her thoughts about the campus, going to the beach & Santa Barbara, the trip to the Getty Center & the Hollywood Bowl, and the final days and farewell dance.
She also offers a nice reflection about how much she and her classmates were able to achieve in just two weeks. "My section got into some deep stuff, including how to prove the existence of the soul, whether or not faith is reasonable, the purpose of creation, the definition of piety, and much more," she writes. "It was magical to be able to discuss these fundamental questions with my peers in the light of Catholic teaching. It's kind of mind-blowing, really."
Apparently she liked what she experienced. "I've already begun my application, so we'll see if I end up at Thomas Aquinas College next year," Maria concludes. "And hopefully I'll reconnect with some of the friends I made at the Summer Program.