Summer Program Blog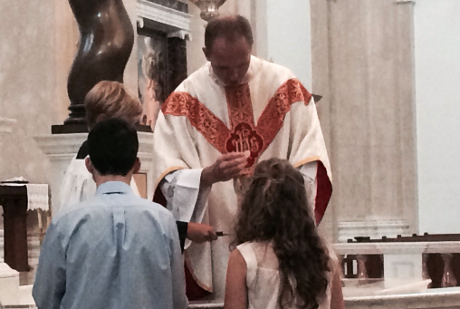 Fr. Nick distributes Holy Communion.
Many of the participants in this year's Summer Program remember fondly the homily that Rev. Nick Blaha ('02) gave at the Sunday Mass on July 26, the program's midpoint. Fr. Nick has made audio of the homily available via his website at Didde Catholic Campus Center at Emporia State University, where he is a chaplain.
"These things are good that we strive for — material comfort, security, fulfilling relationships. There's nothing wrong with those, so far as they go," Fr. Nick says. "The problem is that they don't go far enough. It's not that we want too much, it's that we don't want nearly enough! The scope of our moral and our spiritual vision is narrow. It's constricted, truncated. … There is a love and goodness and a truth that awaits me if I can lift my eyes from what is fleeting and set my heart on the desires of the spirit."
Fr. Nick concludes by telling the students, "To you, the young men and women who joined us for this brief visit, this brief time here, to experience a little taste of what this college is all about, our hope for you is that in this experience you've come to recognize it as a community of white-hot desire for the satisfaction of the spirit. And I hope, all of us hope, that no matter where you choose to go that you will attach yourself to a community that stirs you into flame."
Amen, Fr. Nick!