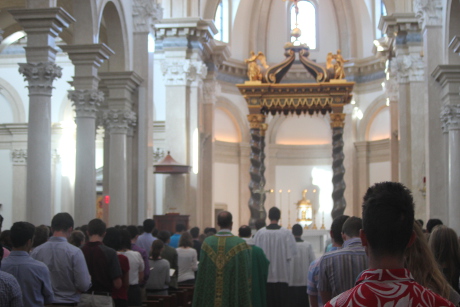 Sunday began with two Masses in Our Lady of the Most Holy Trinity Chapel, the first in the extraordinary form, and the second in the ordinary form, accompanied by the Thomas Aquinas College Choir. Students then prepared for Monday's classes by reading Euclid and Boethius' Consolation of Philosophy before heading off in four passenger buses for a day of adventure …
First stop: Rincon Beach, which is about a 45-minute drive from campus and surrounded by cliffs with a spectacular view of the Pacific Ocean. Highlights of the trip included volleyball, swimming, surfing and snorkeling:
Next stop: Santa Barbara, where students enjoyed dinner at various spots of their choosing: family-style Italian at Palazzio's, burgers at The Habit, a local Lebanese restaurant, and others. Prefects then led students down State Street for shopping and ice cream. At the end of the trip, students and prefects gathered at Stearns Wharf for a group photo. In the buses on the way back to campus, the group prayed the Rosary, and upon returning to the campus, all were grateful to call it a night after a delightful — but full! — day.