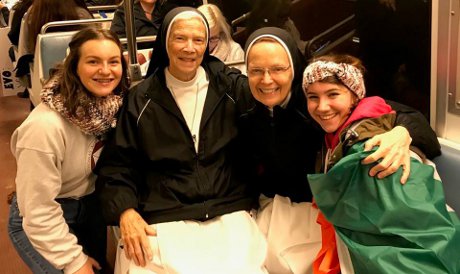 Two students from last year's High School Summer Program —Abigail (left) and Hope (right) — had a reunion of sorts in Washington, D.C., at Monday's March for Life! While riding the Metro, the two friends met up with Mother Mary Assumpta Long, O.P., (the College's 2012 Commencement Speaker) and Sr. Joseph Andrew, O.P. There they snapped the above photo, which appeared on the Facebook page of the Dominican Sisters of Mary, Mother of the Eucharist.
Hope, who hails from Ireland, traveled quite a ways to participate in this year's March. What a blessing that she had a friend who lives in nearby Virginia; and what a blessing to see Summer Program friendships carry on!
If you or someone you know would like to make friendships that will last a lifetime — all while enjoying two weeks of great books, deep faith, and the beauty of Southern California? The College is now taking applications for the 2018 High School Summer Program — open to all high school juniors.