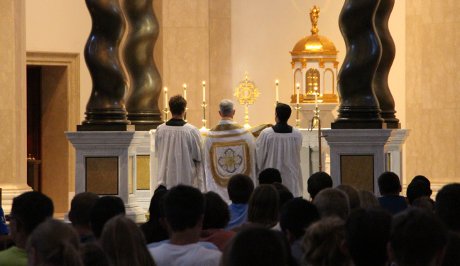 Adoration in Our Lady of the Most Holy Trinity Chapel
Following their morning class on Genesis, then midday Mass and lunch, the high school students enjoyed a brief respite on Wednesday afternoon — which they filled with a volleyball tournament. The competition consisted of several teams, each including two prefects, that battled against one another until only two remained for a championship round. In the end, the team captained by Thomas Cain and Anna Goodwin won the title. But that victory, alas, proved short-lived, as the champions then lost a hard-fought bonus match to a team of talented (and well-rested) tutors.
Immediately after the tournament, there was a barbeque dinner on the lawn in front of Sts. Peter and Paul Hall. "The students seem more comfortable with each other," reflects one prefect. "You can definitely see the friendships beginning to form."
From there it was on to study hall, where students prepared for Thursday's classes on Genesis and Kierkegaard, and then the nightly Rosary in Our Lady of the Most Holy Trinity Chapel. Program Chaplain Rev. Sebastian Walshe, O.Praem., gave a talk about the Parable of the Prodigal Son and its application to our lives. He then exposed the Blessed Sacrament for half an hour of Adoration, during which time he and two of the College's chaplains heard confessions. This time of prayer — amid the studies, the recreation, and the fun — allowed students to turn to the "source and summit" of Christian life, our Eucharistic Lord.
Leaving the Chapel spiritually refreshed and reinvigorated, the group then made its way to St. Joseph Commons for dance class. On the final night of the Summer Program, there is a farewell dance, and the students want to be prepared! Prefect Daniel Selmeczy ('08) led the way, instructing the group in the basics of swing. "The students were all really good about practicing," one prefect remarked. "For a lot of them, it was their first time swing dancing, but they didn't seem nervous at all." The session lasted only an hour, but many remained afterward, all the way up until curfew, to keep practicing.
Meanwhile, students who volunteered for Friday's staged reading of Shakespeare's A Comedy of Errors received their assignments. They then watched a film production of the show, so as to inspire their own performances.
After curfew, back in the residence halls, it was a tamer night than Tuesday's had been. "There was no whiffle-ball dodgeball," laments one of the men's prefects, "but a lot of guys were asking for it!" Instead, the men and women alike enjoyed cheese and crackers, plus some good conversation, before retiring for the night.