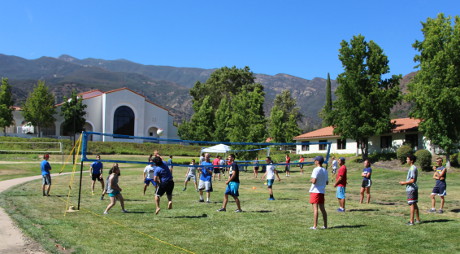 After a hard week of work — and yes, plenty of play, too — the students on this year's High School Summer Program happily welcomed the weekend at the conclusion of Friday's classes. Recreation period consisted of the usual volleyball, basketball, trips to the ponds, and dance practice. But all of that was merely a precursor to the highly anticipated staged reading of Shakespeare's A Comedy of Errors, which followed dinner:
As the show came to an end, the prefects set up candles along the edge of the fountain in St. Thomas Plaza, from which Fr. Sebastian led a procession to the Colleges' Stations of the Cross. There students walked and prayed together, meditating on Christ's passion and death as the sun set and the day's heat finally began to break:
The night concluded with singing and ice cream by the fire pit on the campus fairway:
Then it was back to the residence halls for consecration and lights out. This morning, students are taking a hike to the "Punch Bowls" in the Los Padres National Forest, which abuts campus. Photos from the hike should be available on this blog by early this evening.