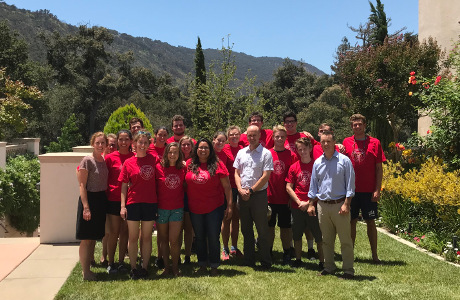 The 2018 Summer Program prefects with Summer Program Director Brian Dragoo and Admissions Director Jon Daly
Dear parents,
Greetings from Thomas Aquinas College! I hope you are well and enjoying your summer.
Thank you for sending your children tomorrow! We very much look forward to welcoming some 140 students from 32 states as well as Argentina, Austria, Brazil, Canada, Chile, Germany, Lithuania, and New Zealand!
As we make our final preparations to welcome everyone here, I wanted to let you know that students who are flying in will be met at their baggage claim by members of our Summer Program staff, wearing the red TAC t-shirts you see in the above photo. For those who will be arriving by car, we ask to please arrive on campus between 12:00 p.m. and 3:00 p.m. 
Throughout the program, the Summer Program Blog will feature regular updates, usually twice a day, including photos, slideshows, and stories about what's going on, both inside the classroom and out. Please feel free to share the link with any friends and/or family who may be interested in knowing what your children are up to. You can also receive notifications of updates to the blog by following us on Facebook or Twitter.
I hope you will not hesitate to be in touch with any questions anytime — you can reach me by email or by phone (805-421-5901). Should you need to contact us for any travel-related reason tomorrow, the College's phone line will be open from 9:00 a.m. until 3:00 p.m. (805-525-4417).
We look forward to keeping in touch. God bless you and your family.
Sincerely,
Jon Daly
Director of Admissions