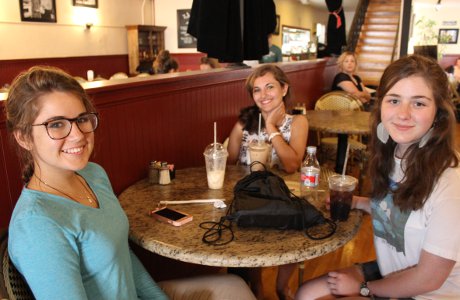 We have reached the point in the High School Summer Program when people begin to speak of the "lasts." On Thursday night we had the last study hall and the last coffee shop; today we have the last class, the last lunch, the last nighttime consecration.
Yet no one is getting too wistful just yet. At the conclusion of Thursday afternoon's classes, a group of some 50 ladies ventured into Santa Paula, where they scoured the thrift stores for clothes to wear to Friday night's soiree, then paid a visit to a local coffee shop. "There was lots of chatter and laughter, good finds, and good deals," a prefect reports.
Meanwhile, back on campus, students took to the athletic fields for a soccer tournament versus the prefects — a fierce competition, in which the students prevailed 6-5. "In the last 10 seconds there was a tremendous amount of intensity up at the students' goal. We almost scored two or three times," laments prefect Joe Daly. "We had a couple of shots which they just managed to stave off. It was a really good game, really hard-fought on both sides."
Then it was time for dinner, followed by study hall. For the first half, students read Flannery O'Connor's "Everything That Rises Must Converge" in preparation for this afternoong's class. Then they went to classrooms to practice their last Euclidean propositions — Book I, numbers 16, 29, 32 — which they did so well that some students even ventured beyond. One group, at their tutor's suggestion, set out to demonstrate the construction of a square. And one good-humored student even sought to "prove" a fish: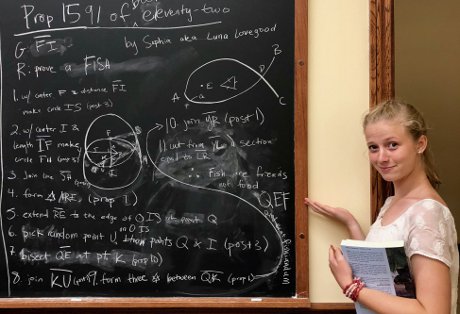 After the evening Rosary came iced-coffee drinks in the campus coffee shop …
… and t 10:30 p.m., students returned to their residence halls for curfew — but the night was not over just yet. Back in St. Monica's Hall, the ladies were enjoying popsicles and an open-mic night …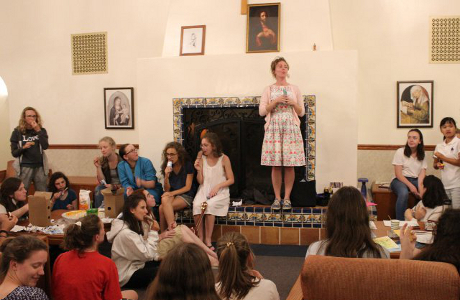 … when they heard a clamor outside. When they looked out their windows, they saw the men of Saints Peter and Paul, walking two by two and dressed in their Sunday best. The gentlemen  proceeded to serenade the ladies by singing "Stand By Me," "Ring of Fire," "Red is the Rose," and "Good Night Ladies."
The men also presented the women with candy and carnations — which many wore in their hair this morning! — before returning to Saints Peter and Paul.
We now enter the last day of the program, with classes on Euclid and O'Connor, and still look forward to one last lunch, recreation period, and Rosary — as well as the farewell banquet and dance tonight!