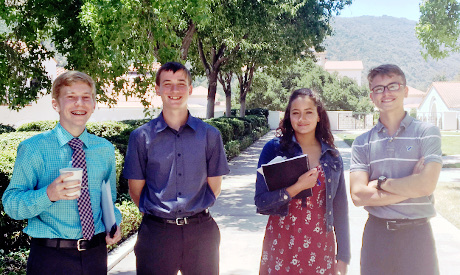 Heading into this morning's class on Genesis chapters 10-25, students expected that they would be discussing Abraham and the sacrifice of Isaac, given that, in their afternoon class, they would be examining Kierkegaard's treatment of the subject in Fear and Trembling. To their surprise, however, the tutors decided to reserve the Hebrew Patriarch for the afternoon, and focused instead on the notion of covenant — what does it mean, and is it even possible to have a covenant between man and God, given the infinite chasm that separates the two? They also considered the nature of God's promises to His people, and how those compared to the promises of the pagan gods in the Greek tragedies that students read earlier in the week.
After morning Mass, the discussion carried over into lunch (roast-beef sandwiches, natural chips, and Cesar salad), and likely would have kept the students talking all afternoon, only it was then time for the next class — in which they did discuss Abraham and Isaac! The various scenarios that Kierkegaard offers helped them to better understand what Abraham experienced and, ultimately, pointed to the root of his greatness, which is his tremendous faith.
Next up is a busy afternoon of sports, open-mic auditions, and play rehearsal, followed by a busy night of dinner, study hall, Rosary, coffee shop, and dorm parties. Come back tomorrow for photos!