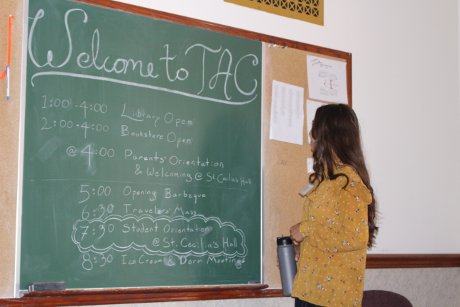 The 2019 California Summer Great Books Program for High School Students is under way!
Students began arriving at Los Angeles International Airport Sunday morning — some traveling from as far as the U.K. and Argentina — where they were met by the Summer Program prefects, who took them on one of several buses back to campus. Over the course of the afternoon, more buses arrived, as did cars carrying students who live closer to the College. Upon settling in their residence halls, the students began visiting, playing sports, and touring the grounds.
After students arrived and settled in on Sunday afternoon, parents attended an orientation meeting and campus tour, followed by the family barbeque …
Then, in the evening, there was an orientation in St. Cecilia's Hall, followed by consecration and ice-cream socials back in the residence halls:
Check thomasaquinas.edu/summerblog, or follow us on Facebook and Twitter, to get updates throughough the day all program long!