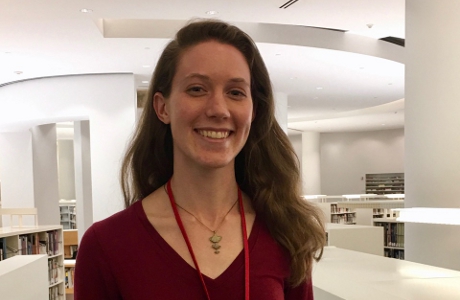 Zoe Appleby ('18)
Dear Students,
I am Zoe Appleby, the head women's prefect for the 2019 Great Books Summer Program, and I am so looking forward to welcoming you to the Thomas Aquinas College, California, campus — a place very dear to me and my fellow prefects.
You are about to embark on a two-week journey. It may be an intellectual journey, a spiritual journey, a journey of friendship, or all of the above and more. As you prepare for these two weeks, I'd like to share with you some advice I wish I had heard before my Summer Program.
Challenge yourself with a new goal! Whether you decide to sit with a new group of people for breakfast every day, learn how to play volleyball, ask a question during each class, or pray a Rosary daily, setting a new goal is great way to jump into the Program with enthusiasm.
Stop and smell the flowers. TAC is unique for many reasons, among which is the beauty of our campus. So make sure to enjoy the sunsets, the stars, the mountains, the flowers, and the architecture while you are here.
Don't be afraid to speak up in and out of section. You have the unique opportunity to encounter some of the most profound questions that men and women have been grappling with for thousands of years. And some of these might not come up in section but instead at your lunch tables, or in your dorms, or after Mass. Each of you has something to contribute to all of these discussions, so don't be afraid to speak up!
Talk to the chaplains. On my Summer Program, I didn't talk to the chaplains enough and I regret that. These men are shining examples of faith, joy, intelligence, and wit. And when you encounter Fr. Buckley (which I hugely encourage you to do), make sure to tell him Zoe says hi!
But the best piece of advice I can give you is this: Be open. Expect to have your expectations exceeded. From the readings, to the activities, to your fellow students, all will surprise you in ways you cannot now imagine. So keep your hearts and minds open to whom and what you will encounter.
The Admissions team as well as I and my fellow prefects are praying for you and we cannot wait to welcome you in person to Thomas Aquinas College.
Sincerely,
Zoe Appleby ('18)