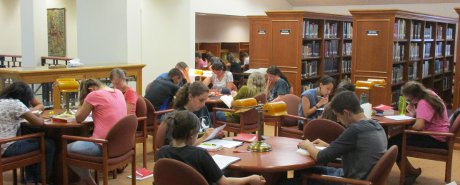 We mentioned in this morning's post how hard the high school students worked at last night's study hall. Now we present the photographic evidence:
No doubt they were working hard, in part, to prepare for this afternoon's class on the pre-Socratic philosophers. These ancient, fragmentary texts reflect some of man's earliest attempts to comprehend nature and the physical world. "The students seemed to find the works both fascinating and mind-boggling," says one prefect. "They had never read anything like that before!"
As a reward for their efforts, there will be the usual recreation period this afternoon and parties in the residence halls tonight. Check in tomorrow for updates and photos!