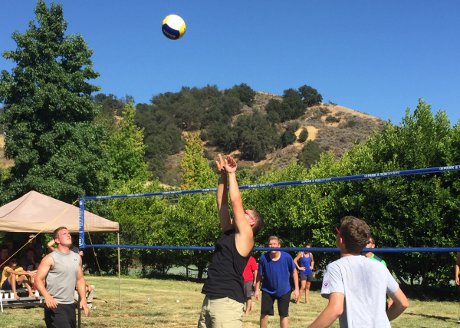 If lunch today was any indication, this morning's class on Genesis must have captured the imagination of the High School Summer Program students, because it was all they could talk about!
While enjoying a menu of burgers, fries, and a Mediterranean salad, the students continued classroom conversations about the first book of the Pentateuch. They discussed symbolic elements of the text, different kinds of knowledge — both before the Fall and after — and how God can know evil. They also considered the question of free will in Original Sin, and how that compares to Sophocles' treatment of fate in Oedipus Rex and Antigone.
After lunch, the students made their way to the athletic field for the much-anticipated, 16-team volleyball tournament — still ongoing as of this moment — after which the winning squad will take on a team of TAC tutors. Then there will be a barbeque dinner, followed by Eucharistic Adoration and a Rosary procession, study hall, and the first round of dance lessons.
Check in Thursday for photos and a full report!