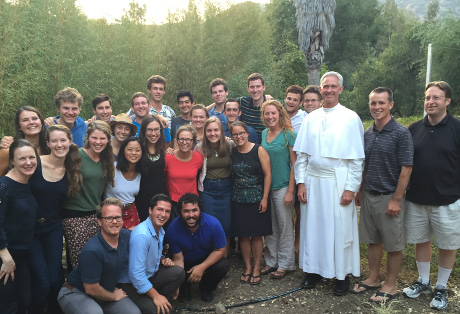 On Saturday evening, after the last of the 2016 High School Summer Program students left campus and headed for home, the team that ran the program got together for a goodbye dinner. The Admissions counselors, the chaplains, and all the prefects gathered one last time to celebrate their two weeks of hard work. "It was a beautiful reminder of how dedicated so many people are to the College and to its students," says Admissions Director Jon Daly. "It was really inspiring."
The group also turned in some additional photos from the goodbyes on Saturday morning, which we present in one final slideshow:
The College thanks all those who helped make the 2016 program such a success — the dedicated Admissions team, the hard-working prefects, the devoted chaplains, the wise tutors, the generous parents, and the hard-working students! Special thanks, too, are in order for prefects Zoe Appleby and Patrick Nazeck, who provided the information that kept this blog running, and Martin McCann and Alexis Pomietlo, who took the photographs.
And, of course, all thanks and praise be to God!