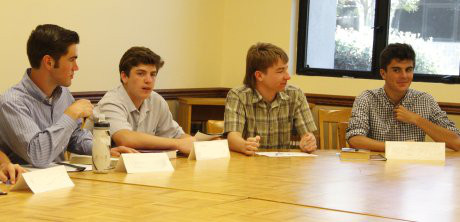 The 2016 High School Summer Program is drawing to an end, but our young geometricians are as focused and determined as ever! This morning's session marked the fourth and penultimate class on Euclid's Elements, and the students have become quite adept at demonstrating propositions. Today they confidently worked their way through Book I, Propositions 11, 13, and 15, amazed that something that seemed so foreign and complicated — only days ago — is now so familiar and comprehensible.  
In the second class, students continued their discussions of Boethius, which have spilled into the Commons and the residence halls. One prefect recently heard a group of students passionately discussing Lady Philosophy's explanations of the "false goods" and their perfection in God. Alas, today's class marks the end of the Boethius portion of this year's program. In tomorrow's afternoon session — the last class of summer 2016! — students will examine Flannery O'Connor's Everything That Rises Must Converge.
Before then, though, there is still much fun to he bad, including this afternoon's 3-on-3 basketball tournament. Come back tomorrow for new pictures!