As promised in yesterday afternoon's post, we present photos from the "First Annual" High School Summer Program Quad Run!
A new but already beloved Thomas Aquinas College tradition, the Quad Run was inspired by a classic scene from Chariots of Fire, in which Harold Abrahams successfully completes Cambridge University's Trinity Great Court Run before the King's Gate Clock strikes 12. On Thursday afternoon, some 50 Summer Program students staged their own quad run. The athletes sprinted, in pairs, a clockwise course around the academic quadrangle, beginning and ending by St. Bernardine of Siena Library.
On the men's side, the top runner was Lee, a Summer Program student from Ventura, California, who completed the course in 39.5 seconds. On the women's side, Hope from Dublin, Ireland, blew away all competitors, finishing with a time of 43.8 seconds. Hope even shattered — by a full second! — the previous women's course record, which April Shonnard ('16) set two years ago!
Many of the men then moved to the campus ponds for "Water(melon) Polo," in which two teams attempted to bring a greased watermelon across the pond and to the opposing team's goal. This exhausting and hilarious activity was followed by a hearty dinner, then a study period in the library and classrooms. Students once more practiced their Euclidean propositions with the help of the prefects, and they also prepared for this afternoon's class on Flannery O'Connor's Everything That Rises Must Converge.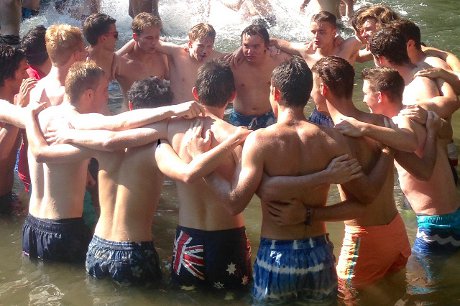 At the end of study hall, all gathered in front of the Chapel for a candlelight Rosary procession to the Lourdes Grotto, led by Fr. Sebastian. Upon arriving at the grotto, which prefects had surrounded with candles beforehand, students, fell silent, deep in prayer. Many stayed behind to keep praying long after rest of the group had departed.
In the short time before curfew there was a dance review in St. Joseph Commons, accompanied by iced coffees and Italian sodas in the coffee shop. At 10:30 p.m., all returned to their residence halls — but the night was not over just yet!
Soon after curfew, the ladies of St. Monica's Residence Hall were startled to hear music coming from outside their courtyard. When they looked out their windows, they saw the men of the Summer Program — dressed in their Sunday best — singing "What a Wonderful World," "A Whole New World" (for which the women joyfully joined in to sing the part of Jasmine), and "Red is the Rose." The serenade, accompanied flowers and chocolates, made such an impression that it was the subject of conversation at breakfast this morning!