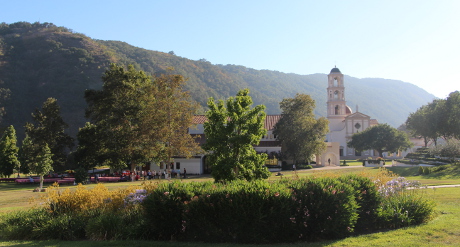 Note: We apologize for the delay in posting material to this blog. Due to technical difficulties beyond our control, we could not post content to the College's website on Monday. The difficulties have been resolved and, by God's grace, this blog will be regularly updated throughout the remainder of this year's program. Please accept our apologies, and thank you for your patience!
The 2016 Summer Great Books Program for High School Students is under way!
On Sunday afternoon, students began arriving at Los Angeles International Airport, where they were met by the Summer Program prefects and boarded one of four buses to campus. "There was constant chatter on my bus; the students did not seem shy at all," reports one prefect. "As we made the turn on Highway 150 and first saw the campus, a hush fell over the whole bus. They were super-excited!"
Over the course of the afternoon, more buses arrived, as did cars carrying students who live closer to campus. Upon settling in their residence halls, the students began visiting, playing sports, and touring the campus, while parents attended an orientation meeting at 4 p.m. At 5:00 there was the opening barbeque, followed by a travelers' Mass at 6:30 p.m. in Our Lady of the Most Holy Trinity Chapel. Students then returned to their residence halls for an ice-cream social and a talk about the rules of residence, after which some played basketball right up until the 10:30 p.m. curfew.
Monday morning began with breakfast, followed by an academic orientation led by the director of this year's summer program, Dr. Michael A. Augros, a member of the College's teaching faculty. Students then headed over to the Chapel for this year's opening Mass, offered by program chaplains Rev. Sebastian Walshe, O.Praem., and Rev. Paul Raftery, O.P.
After Mass, it was time for the first class of this year's program! In a discussion of Sophocles' Oedipus Rex, students contemplated such questions as, "Was Oedipus responsible for the horrors that befell him?" and "What role does fate play in our lives?" From there followed lunch, and then the second class — an examination of Plato's Euthyphro.
Stay tuned for more updates!