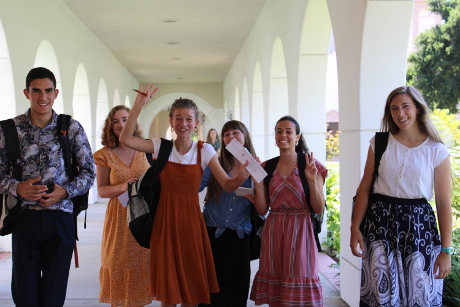 With the completion of today's classes (and the surprise visit of Sir Anthony Hopkins), we have just about reached the end of the 2019 High School Summer Program!
This morning students met for their last class on Euclid, where — having grown confident over the last few days — they handily demonstrated Book I, Propositions 16, 29, and 32 for their classmates.  After Mass and lunch, they went to their last class, during which they discussed Flannery O'Connor's "Everything That Rises Must Converge." When they arrived, they found — waiting for them by their spots at the table — some gifts from the Summer Program staff: a TAC book bag, pen, and water bottle; photos of their sections and the whole Summer Program student body; and a giftwrapped copy of C.S. Lewis' Screwtape Letters.
Then, after class, they received one more gift — a Thomas Aquinas College t-shirt, presented by prefects just outside St. Joseph Commons. Students began saying some preliminary farewells — and, according to one prefect, some tears were shed.
But there's no need to get too weepy just yet! There's still a banquet and dance to enjoy tonight. Check in Saturday for photos from the gala and the morning departures.