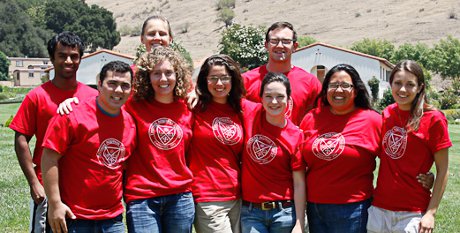 About half of the prefects for the 2013 High School Summer program have arrived, with the rest expected this evening and tomorrow. The whole crew looks forward to welcoming our students to campus on Sunday!
Many of this year's 135 participants will be flying into LAX. If you are one of them, go to the baggage claim area in your terminal and look for members of the College staff who will be there to greet you. They will be wearing the red T-Shirts depicted above, with the College's crest on the front and "GREAT BOOKS Summer 2013" on the back.
Parents: If you want to stay abreast of all the learning and fun your children will be enjoying over the next two weeks, pay close attention to this blog — we will update it regularly with news and photos. Or, go "like" Thomas Aquinas College on Facebook, and updates will appear in your news feed.
Here's looking forward to two great weeks.
May God bless you all with safe travel,
The Summer Program 2013 Staff