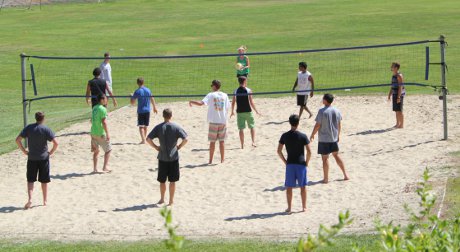 After working their way through Kierkegaard on Thursday afternoon, some 18 students joined prefects for a run/hike in the foothills surrounding campus. The outing was highlighted by great conversation and an encounter with a friendly cow, who attempted to follow the group for as long as she could. After the hike, all (save the cow) cooled off with a swim in the campus ponds. Others used the afternoon recreation period for yet more volleyball and Frisbee.
Then it was off to dinner, study hall, and the nightly Rosary with Exposition and Adoration of the Blessed Sacrament in Our Lady of the Most Holy Trinity Chapel. During this prayerful time, Chaplains Rev. Joseph Illo and Rev. Sebastian Walshe, O.Praem. ('94), generously heard confessions; and outside of the Chapel's mahogany confessionals formed two beautifully long lines of students seeking to avail themselves of the sacrament.
Following the Rosary, Prefect Dan Selmeczy — who is widely recognized in these parts as The Greatest Dance Teacher in the World — began preparing students for the end-of-the-program dance, instructing them in the rumba, foxtrot, and swing. "As I walked around, I didn't have to stop to help the couples as much I was expecting," says prefect Annalisa Tombelli. "They all picked up the steps really well, and there were smiles on every face."
Soon after curfew, the ladies of St. Monica's Residence Hall were startled to hear music coming from outside their courtyard. When they looked out their windows, they saw the men of the Summer Program singing "Stand by Me," followed by "Happy Birthday," after which they presented a cake to one young woman who was celebrating her birthday. In gratitude, the ladies gave the gentlemen a batch of freshly baked chocolate-chip cookies. The serenade made such an impression that it was the subject of conversation at breakfast on Friday.
Friday's classes consisted of stimulating conversations about Fabre and Pascal. The prefects report being very impressed with the thoughtfulness of students' classroom comments. Meanwhile, all look forward to tonight's dramatic reading of Macbeth. The photo below shows some students eagerly signing up for the parts in the performance!