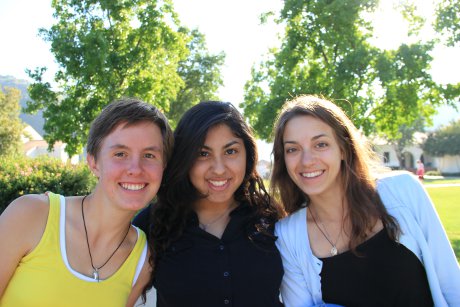 Wednesday was a full day! The students worked through their second morning of Euclidean propositions, then moved on to a discussion of Boethius' Consolation of Philosophy in the afternoon. Tutors Dr. David Appleby and Dr. Phillip Wodzinski opened their section's discussion by noting that Boethius presents Lady Philosophy as a physician or a doctor. So what, the tutors asked, is Lady Philosophy's diagnosis of the patient?
From that starting point, the conversation progressed into an inquiry into what kind of treatment Lady Philosophy has to offer. Dr. Appleby noted that the class discussion went "very well indeed!"
After class all joined in St. Joseph Commons for one last afternoon practice for Friday's post-banquet dance. Then, during study period, there was practice of a different sort: Students and prefects left the library and headed for the classrooms, where they worked their way through the next day's Euclidean propositions on the chalkboards.
Later on, after evening Rosary, the group met up in the Commons for Open-Mic night. Students performed some 20 songs in all — many of them original — in English, Spanish and French. One of the more extraordinary numbers was "Ars Poetica," a stunning 32.4-second recital of the periodic table of elements! At the end of the performances, students returned to their residence halls, where prefects cooked up hot dogs to stave off pangs of hunger before bedtime.
Thus concluded Day 11 of the 2013 Thomas Aquinas College High School Summer Program, which, alas, is quickly drawing to a close …