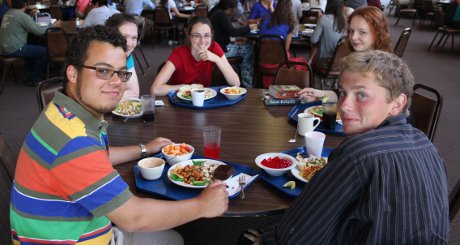 After a night of deep sleep following the weekend's adventures, students began Monday with Mass, breakfast, and a morning class on Euclid's definitions, common notions, and postulates. They then made their way to the campus coffee shop, where Director of Admissions Jon Daly led a question-and-answer session for students interested in applying to the College.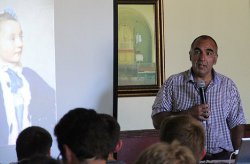 The topic of conversation at lunch was Euclid, with students preparing to present his first three propositions for demonstration on Tuesday. Students also discussed who was most at fault for the tragedy that occurs in Macbeth — the subject of their Monday-afternoon class. During recreation time, tutor Dr. John Nieto hosted an overflow crowd in the campus coffee shop, where he delivered a talk entitled "Art and Beauty." The talk, which discussed the need art for art and man's desire to gaze upon what is beautiful, will serve the students well when they visit the John Paul Getty Museum in Los Angeles.
Then, following dinner, study hall, and Rosary, the students challenge the prefects to an evening basketball game.
In the women's game, the prefects won 21-18. In the men's match, it was the students who emerged triumphant, 33-28. After their victory, the men hoisted their coach — a fellow student, Dominic Scaglione, who was celebrating his birthday — above their shoulders. As they carried him across the court, some friends approached with a cake, capping off the celebration.