Posted: January 24, 2020
Last weekend the campus of Thomas Aquinas College, California, was blessed with a visit from a new friend, His Eminence Thomas Cardinal Collins, Archbishop of Toronto.
"For many years I have looked forward to visiting Thomas Aquinas College because I have heard so much about its excellence as a Catholic college where faith and reason come together magnificently," says Cardinal Collins. "I was delighted to have the chance finally to visit the College and to see this beautiful campus whose beauty is itself an incentive to grow in the love of truth and goodness."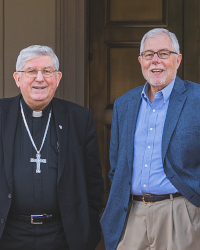 Cardinal Collins and President McLeanHis Eminence was in Ventura County to participate in the annual conference of the USA Council of Serra International, an organization dedicated to fostering priestly and religious vocations, for which he serves as episcopal advisor. A friend and benefactor of the College, Larry Mackel — who is a board member of Serra International's USA Council — had graciously offered to serve as the Cardinal's driver. While on their way up from Los Angeles International Airport, Mr. Mackel suggested that Cardinal Collins pay a visit to the College, and he happily agreed.
"I had the good fortune of meeting His Eminence at an education conference in Rome some years ago," says Thomas Aquinas College President Michael F. McLean. "I have long hoped that he could visit the College, and I am grateful that his attendance at a conference of Serra International made his visit possible. It was a joy to show him our campus and to receive his words of encouragement and support."
As it happens, Cardinal Collins' visit coincided with a retreat that the Sisters of Life were conducting for the College's women students. "It was providential and especially gratifying that Cardinal Collins was able to greet the students and Sisters attending the retreat and offer them his blessing," Dr. McLean adds.
During their visit Cardinal Collins and Dr. McLean spoke about a wide range of topics, including the opening of the TAC's New England campus. "I am very glad that the College is expanding in the Eastern United States closer to Toronto," says His Eminence. "I would strongly encourage anyone seeking a Catholic higher education to attend Thomas Aquinas College."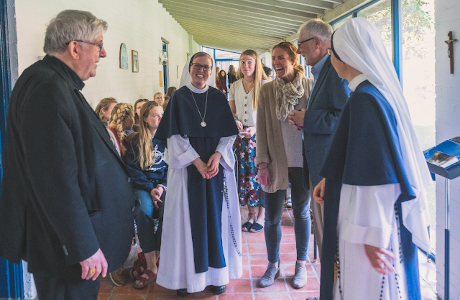 Cardinal Collins, Dr. McLean, and the Sisters of Life
"Few schools anywhere can match Thomas Aquinas College's extraordinary blend of deep Catholic faith and rich academic formation."
– The Most Rev. Charles J. Chaput
Archbishop of Philadelphia
CALENDAR
NEWS FROM THE COLLEGE